Russia Day at Reading School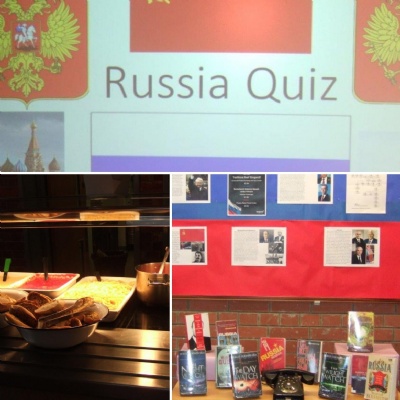 Reading School celebrated all things Russian earlier this week with food, quizzes and showing a Russian film in the LRC.
Pupil Librarians, Kiril (10S) and Grigory (13DWH), led a team of pupils keen to celebrate Russia. Grigory created an "Around the School Quiz" for all students and Kiril created a lunch time quiz, which took place in the LRC. Pupils from Year 7 to 13 took part in answering lots of challenging questions. The winner was Michael (9C) and in second place Alex (13JL). Pupils were also treated to a Taste of Russia with a special menu prepared by Harrison Catering.
Mr Sierawski, Chef Manager, said "It is quite a challenge to cook Russian food on such a big scale, but we did it."
Kiril said, "the traditional beef stroganoff and poppy seed yeast cake was very nice."
For pupils who would like to know more about Russia, a collection of books exploring Russian history, culture and literature are on display in the LRC.
At Reading School we celebrate the diverse cultures of our pupils, staff and parents and are very fortunate to have so many willing volunteers to lead our celebration of these events. We would like to thank Harrison Catering, Kiril, Grigory and their team for making Russia Day such a success.