Elevating music to new heights...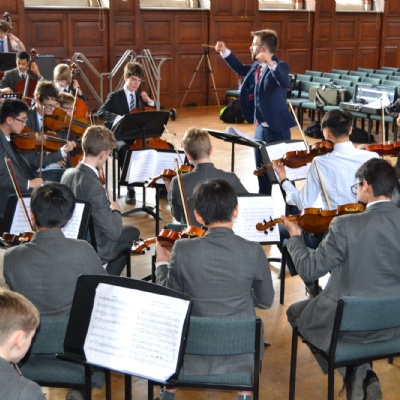 We bid good luck and farewell to Mr Richard Meehan, who is moving onto pastures new, after nearly 7 years at Reading School.
Mr Meehan has elevated music at Reading School to new heights and inspired many pupils to follow their musical talents and some to pursue music beyond Reading School. Reading School is indebted to Mr Meehan's constant energy and enthusiasm that has seen many musical performances from Colt Concerts; Junior House Concerts; Performances at the Youth Regional Festivals; and his spectacular arrangements and performances at Inter House Music Competitions held at the Hexagon and more recently the Spring Concert held at The Great Hall. We will cherish his dedication and he will definitely be missed by his colleagues and pupils. Reading School wishes Mr Meehan all the best.
Nathan Galpin Y13 said:
Mr Richard Meehan. How does one describe his time at Reading School in just one article? Perhaps one could mention the countless concerts that have entertained the masses, or maybe the lofty heights to which House Music has been elevated to, or the way in which he has transformed extra-curricular activities into professional level ensembles (with the string orchestra recently performing Schubert's Unfinished Symphony, a piece many professional ensembles cannot even play). Instead, I thought I'd mention Mr Meehan's effect on his first year of Reading School students, my year. Mr Meehan was the highlight of Year 7 music with his own Animado textbook and variations on the theme of Paganini. One by one, each class was taught all the variations and to this day we cannot help but join in when we hear "Old Paganini had an old violin". Truly, Mr Meehan creates an environment which is for everyone, giving all Year 7s an introduction to a new instrument and supporting all those who demonstrate a fabulous talent for music. One A-Level Musician described him as, "unconventionally inspiring" and he has certainly an inspiration to many musicians and non-musicians alike. He will be sorely missed but not forgotten.