RS University Challenge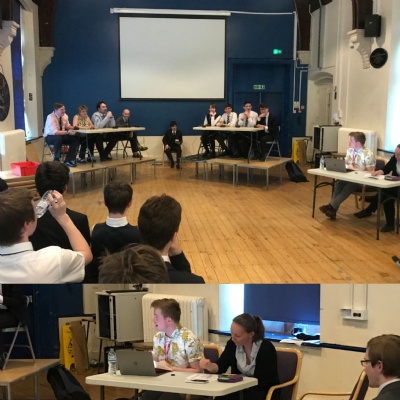 University Challenge pupils v teachers...
At lunchtime on Thursday 19th April, the elite of Reading School's students and teachers locked horns in the annual Reading School Challenge. Julian Sutcliffe (OR 2007-2014), champion of (the real) University Challenge, returned to be our very own Jeremy Paxman, with Miss Hooker counting up the all-important scores.
A brand new Y13 student team of Jack Lawrence, Noam Rosenbaum, Matthew Wadsworth (team captain) and Alessandro Giacometto represented the elite of the student body, whilst Mrs F Smith (Head of Economics) and Mr D Whitehorn (Teacher of History) did a sterling job of filling the gaps left by Mr Meehan and Mr Hurst, with Mr R Baldock (Head of English) and Dr J Matthews (Head of Mathematics) (team captain) returning as veterans of the competition.
The quizzing got off to a bit of a slow start, especially with Mr R Baldock very nearly forgetting Quince as both a pear-like fruit and a character from 'A Midsummer Night's Dream'. However, things soon got underway with the students dominating most of the answering, including some quick maths and physics from Jack Lawrence and Matthew Wadsworth. As a result, the students led 110-65 at half time.
Spurred on by the prospect of defeat , the teachers quickly overtook, with Mrs Smith and Mr Whitehorn certainly earned their places, both excelling in their respective subject areas.
With three minutes to go, the staff led 165-135, and not even Alessandro's knowledge of French acronyms or Noam's (eventual) identification of quartz was enough to stop the reigning champions; the teachers won, with the final score: 190-150.
Many thanks to Julian, Miss M Hooker (Second in Mathematics Dept) , Nathan Galpin, all of the competitors, and the charity committee, who were raising money throughout the event for No. 5 Counselling.