Criterion Games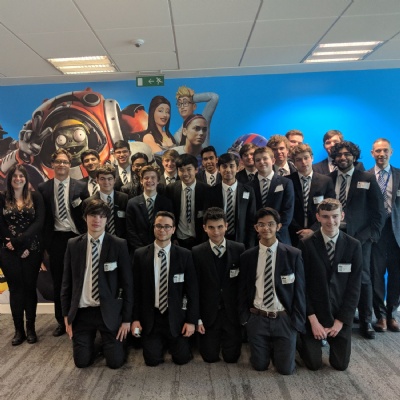 Y12 visit to Criterion Games...
On Friday 27 April the Y12s visited the Criterion Games for a studio tour, talks and a workshop. The aim of the trip was to give pupils the experience of a real development environment and a chance to work through some of the processes that they go through when developing games during the workshop. Staff at Criterion also discussed different career paths that students could take and demonstrated the range of jobs available in the games industry.
Y12 Daniel commented:
"My classmates and I thoroughly enjoyed the trip to Criterion Games on 27th April. We were given a welcoming tour of the game studio and received multiple career talks from different members of the team at Criterion. To top it all off, we finished with a fun and interactive brainstorming session encouraging us to come up with unique games. My team was given the two words "Dog" and "Tea" which resulted in some pretty obscure ideas. After taking a physical look around the working environment at Criterion, I am even more excited about taking up a career in the tech industry . There was a great amount teamwork and cooperation between all disciplines and the number of opportunities for all types of people was inspiring. Well worth the two-hour coach journey!"
Y12 Denis said:
"Visiting Criterion Games was a fantastic experience and I thoroughly enjoyed it. The atmosphere in the workplace was vibrant and full of positivity. It was also very admirable to see the different teams of game designers collaborating with each other and sharing their ideas between themselves to really create a pleasant working environment and effectively incorporate the viewpoint of every single one of the team members within the project.

The staff at Criterion were extremely polite and helpful, and it was very exciting to their impressive and well laid out office, as well as for them to showcase their extraordinary work to us and to display the capabilities of a team of game designers to make something as complex and ludicrous as a video game come to life. It was also extremely kind of them to allow us to listen to a member from each of the different teams (such as audio, graphics, etc.) talk about what life is like in the workplace for them, what kind of designing they do themselves and the qualities required of someone who would like to do a job similar to their own.

All the information given to us was very helpful, and presented in a very nice way which made it very easy for us, as a group of Year 12s, to understand. After we had heard all the presentations, the staff organised a few activities for us where we were given two random words and we had to design a game around them. This is quite a demanding task and it really got us thinking on our feet and put us in the shoes and the mind-set of a professional game designer. It was also very interesting to see what kind of ideas we could brainstorm in the course of around an hour. However, what impressed me most about Criterion Games is the versatility of the team members and their capability to come up with new ideas and share them amongst their peers. They informed us that as a game designer, you may be working on completely different tasks, or even games, throughout short time periods which requires a huge amount of resilience and adaptability in the field. Their ability to do this, combined with the social aspects in development such as sharing ideas and criticisms, allows a company such as Criterion Games to create such entertaining and enjoyable products to the public and the highest possible standard. Thus, in summary, visiting Criterion Games was an experience of a lifetime. It was very informative, especially as a student wanting to do computer science and game design in the future, as well as being incredibly fun and enjoyable."
Many thanks to Miss C Zahra (Head of Computer Science) and Mr Stephen Ling-Winston (Teacher of Computer Science) for arranging this visit.