Geography Trip to the Azores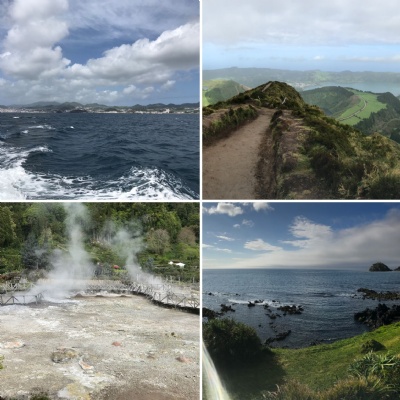 An early morning start, but the views were worth it...
Over the Easter holidays, a group of Reading School Year 10-12 geographers embarked on an educational adventure to the volcanic archipelago of the Azores.
The trip began with an early 03:00 start on a cold Wednesday morning. Fortunately, it could only get better from there. On arrival in the Azores, we met our tour guide Pedro, who would prove to be a great source of information and inspiration throughout the trip. On the first afternoon, we explored the old town of Ponta Delgada – the largest city in the Azores – before venturing underground into a lava tube: a 2500m long cave system carved out by flowing subterranean molten rock.
Thursday began with a drive up to the scenic Lagoa do Fogo lake, situated in the centre of a volcanic crater. Next, we visited a geothermal powerplant, where we learnt how the island's residents use their natural resources to sustainably produce clean energy. We then spent an afternoon relaxing in the Mediterranean sunshine on a black sand beach. On the evening, the cloudy conditions meant the scheduled stargazing was substituted for an entertaining night of bowling.
Friday morning involved a walk around the tranquil Furnas Lake, followed by a hotly anticipated swim in the local hot springs. We subsequently finished the day at Europe's only tea plantation (hotly anticipated by Dr Young!).
On our last day, we spent the morning at the stunning Sete Ciadades Lakes, in preparation for an afternoon of whale watching. Sadly, the weather rapidly deteriorated whilst we were out in the ocean and hence we caught no glimpses of the promised whales. Nonetheless, the boat trip was not without entertainment or incident, as no less than 7 people succumbed to the choppy conditions and were sick.
Thank you to Miss A Creegan (Head of Art), Mr G Fairchild (Geography Teacher and Head of Leadership) and especially Dr K Young (Head of Geography) for organising the superb trip.
#Azores #geography
By Matthew Rudd