A Level Success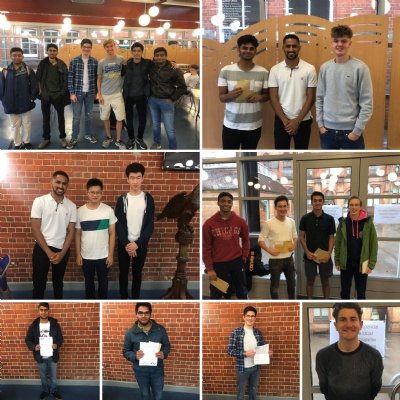 Reading School celebrates A Level success 2018
Sixth Form pupils at Reading School are celebrating academic excellence as a consequence of their hard work over the last two years culminating in 92.3% A*-B grades, 74.4% A*-A grades, 38.8% A* grades and a record 99.14% A*-C grades at A Level.
In Biology 96.1% of pupils gained A*-B grades and 95.9% of Economics candidates gained A*-B. In addition, 54.7% of Further Mathematicians gained the highest grade possible, A* and 81.6% of Mathematicians were awarded A*-A grades.
Headmaster of Reading School, Ashley Robson, stated:
'We celebrate academic excellence today which is a consequence of sustained quality of teaching from dedicated and professional staff and character from our conscientious pupils. In addition, I would like to recognise the support of parents and carers along with the governing board, led by Mr Robert Kenwrick, which has ensured that we work together to deliver our vision of academic excellence and building good men'.
As a state school operating on the meritocratic principle of offering able boys from any social or ethnic background the opportunity to excel academically, Reading School is proud of its track record in supporting students eligible from all backgrounds to successfully gain places at Oxbridge and Russell Group Universities.
Overall, 61.1% of Year 13 students gained at least 3 A grades and 75.8% gained at least AAB.
Whilst on an individual basis, some of the successes include Jack Lawrence who gained 5 A* grades, Matthew Wadsworth and Ben Iddon who achieved 4 A* and 1 A grades each, Rhim Shah 4 A* grades and Alessandro Giacometti 3 A* and 1 A grade.
Deputy Headmaster and Head of Sixth Form, Chris Evans, stated that:
'Our young men have displayed resilience and character and fully deserve their academic success. We wish them well for the next step in their lives'.
Congratulations to the whole Reading School family #readingschoolfamily #Alevelresults2018 #rskeepintouch #buildinggoodmen