Floreat Y9 Enrichment Week July 2018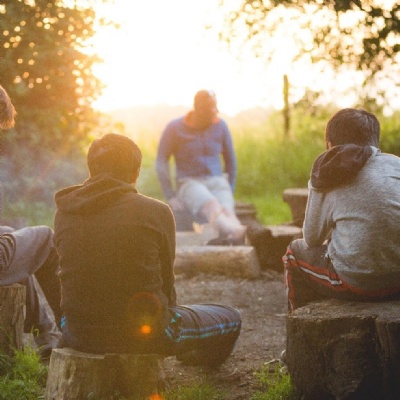 As Autumn sets in, lets take a look back at the Floreat Y9 Enrichment Week, which took place in July 2018
Written by Reading School students... teaching life skills, resilience, collaboration, independence, building character and much much more...
Day One: Group Challenge with Mr A Beckey, Director of Sports
On Monday, we did group building activities, which taught us about the difference between a group and a team, and how communication was essential. This was done through games such as trying to get across a 'river' using benches. This was followed by reflection time where we had to "call people out" and then give feedback, as one of the foci was to accept criticism. Floreat activities like this allowed us to get out of the bubble in which we live at Reading School as we would never have visited areas such as social skills in the normal school routine.

Day Two: Life Skills with Miss Creegan, Teacher of Art
On Wednesday, we did Life Skills, which was a clever way of including non-curricular topics while building character. It involved learning to sew, investigating the maths behind tie-tying, baking muffins in the Refectory, how to check key fluids under a car bonnet and the best way to iron a shirt! This was interesting as we did non-academic activities that never failed to surprise me, forcing us to leave our comfort zones whilst embedding the ideas of resilience, perseverance and reflection. I learnt how to work with people I'm not familiar with, and how to form connections with unfamiliar groups.

Day Three: Alzheimer's Society Awareness Raising with Mr J Sanchez, Teachers of Spanish, Sports
We had to talk to the public to raise awareness for the Alzheimer's Society up at the University of Reading. It made us proactively engage with the members of the public, which helped our social interactions and was a good way to experience life in the 'real world', emphasising the importance of communication and group/team work. This was difficult, but in being difficult it made completing it more fulfilling. Because of this, I feel I am more prepared for later life now, and have helped a charity in achieving their goals. I was nervous as I wasn't sure how people would react to me approaching them trying to raise awareness and money. However, it was quite a confidence booster and I have concluded that under no circumstances is giving up the right idea.


Day Four: Hike and Camp with MapAdventures and Mr Fairchild, Head of Floreat
The best part of this week and the one that really brought everyone together as a group was the Hiking and Camping. Planning a route for a 4 hour, 13mile hike was definitely scary at first but despite really testing my mental and physical endurance, it was valuable in helping us to learn how to cooperate and communicate, which, in my group, improved over time. Looking at the people in my group, they didn't look like my good friends but I feel like I have got closer with different individuals in my year and I think it really helped bring out the good side of my character/behaviour. The camping after the hike was even better as we tried new challenges together like slack-lining and fire-lighting together, which taught us a lot about overcoming obstacles as a team. I especially enjoyed the cooking challenge as it helped me go outside my comfort zone and cook something more ambitious than I usually would. The luxurious tents made the experience much better as well!

Day Five: World of Work with Mr Cornelissen, Head of RE
The final day involved us welcoming a variety of expert speakers from the world of work into Reading School to advise, support and engage us with our first steps on the way towards getting a career in which we can help ourselves and others to succeed. From barristers to political analysts, we were regaled with stories of best (and worst!) practice, the failures that they had overcome in their careers so far and then a chance to discuss our own motivations. We went on to write covering letters for a range of job roles that the Careers Adviser, Mrs Desai, had organised for us, and then had to do mock interviews that were our first taste of 'real world' pressure. I can definitely apply what I learnt here to other activities in the future and it was great to talk to expert adults other than our teachers and parents!
See our photo gallery at Floreat Y9 Enrichment Week July 2017
If you would like to be involved in Y9 Floreat Enrichment Week in July 2019, or have an idea that you think would support Reading students flourish, then please get in touch with Head of Floreat, Assistant Head at Mr Fairchild gfairchild@reading-school.co.uk.