Reading School supports Alzheimer's Society - July 2018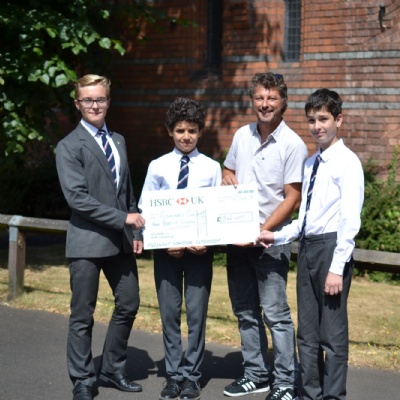 Floreat Enrichment Week and philanthropy from our pupils…
Three of Reading School's finest young men were delighted to hand over a cheque for £346.00 to Tim Waters, Community Fundraiser for the Alzheimer's Society, after a successful fundraising session by 84 of our Year 9 pupils during the school's inaugural Enrichment Week in July 2018. Tasked with becoming 'experts' on Alzheimer's disease and then planning the best way to engage with local young people in conversations about the importance of understanding its consequences on individuals and their families.
Mr Fairchild, Head of Floreat said:
"The Year 9s successfully put into practice core skills of communication, self-confidence and resilience, learnt during Floreat lessons. Floreat is Reading School's timetabled character and leadership programme which aims to foster the 'softer' skills embedding the school's aim of 'Building Good Men'. Situated at the University of Reading, with the kind permission of the Sports Park, the objective was simply raising awareness, yet Year 9's tenacity was evidenced by the willingness of members of the public to donate at the same time as engage in meaningful conversations."
For further information about how you or your organisation can get involved with the Reading School Floreat programme, please contact gfairchild@reading-school.co.uk.
Tim Waters, Community Fundraiser, Alzheimer's Society commented:
"I wanted to let you know that the students did an absolutely phenomenal job engaging with the public.

They clearly conducted themselves in a confident, polite and knowledgeable manner as they raised a whopping £346 which is fantastic – they deserve to be proud of themselves as should Reading School for supporting the Alzheimer's Society."

#BuildingGoodMen #Philanthropy #ReadingSchoolFamily #RSfloreat #RSEnrichmentWeek