Commemoration Service 2018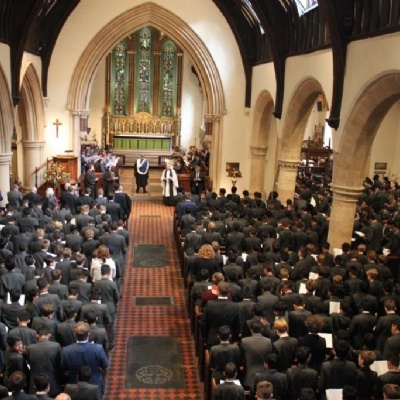 Reading School's annual Commemoration Service took place on Monday 1 October 2018
Reading School was honoured to welcome Reverend Sammy Nawali from Rain Edge International - Sure 24, Nakuru, Kenya to preach to a packed audience at the Reading Minster of St. Mary the Virgin as a part of our Commemoration Service.
The Reading School community - students, staff, governors and guests were united to welcome those new to our community and to celebrate and give thanks for the School's founders and benefactors.
The service provided the opportunity to highlight the rich diversity of our 893 year history and to remember all those whose generous gifts of money, time and expertise provided the foundations for the Reading School of the twenty-first century.
An exceptional reading of 'Jesus Heals Ten Men with Leprosy', by Josh Wallace (Year 13 Prefect) including an uplifting service of rousing hymns, the service proved to be an inspiring start to the school year. Special thanks go to Mr J Turnstill (Head of Music) and Mr J Newman (Teacher of Music) for arranging the Choir and Reading School Festival Brass.
In a service of thanksgiving and celebration, we were delighted, during the sermon, to hear the thoughts of Reverend Sammy Nawali, the founder of Rain Edge International Centre – Sure 24, who spoke passionately about the importance of 'opportunities' and how some people can only dream of the opportunities that are available to our community.
Sammy and Millie Nawali are co-founders of Rain Edge International Centre – Sure 24, based in Nakuru, Kenya. It was founded out of a passion to alleviate poverty especially within the marginalized children, i.e. street children, the vulnerable and those at risk in one way or another within the community. Working to change lives and shape destinies, Sure 24 Homes, offers street children more than a way to survive; it offers these children a home filled with love and a hope for the future.
The Reading School Community continues to support its international social mobility with Sure 24 through pupil led initiatives Reading School Charity Committee to ensure that every child has access to education through fundraising activities. Reading Schools international initiative in Kenya, is one which will remain a strong and personal link for all who are involved for many years to come.
Reading School hopes to organise a pupil and staff visit to coincide with the official opening of the Richard Childs Centre for Character and Leadership in Kenya in February 2019.
Reading School is also sincerely grateful for the welcome and benediction read by Reverend Stephen Pullin, Assistant Archdeacon of Berkshire, Vicar of Reading Minister of St Mary the Virgin as well as Organist, Mr Andrew Knowles MA FRCO.
Special thanks to the Mayor, Councillor Edwards and Guests of Honour, The new President, John Short (1956-64) of the Old Redingensians Association as well as Mr Gert Cornelissen (School Chaplin), Reverend Chris Evans (Deputy Headmaster) for the service. We would also like to thank today's bell-ringers organised by Mr Ian Judd.
Thank you to all the students for their excellent attitude and behaviour and all the staff involved with co-ordinating the logistics to and from the Church.
For all the organising we would like to thank the Events team, Caroline Mole, Jas Chhokar and Robbie Jackson.
Click here to see photos of the Commemoration Service October 2018 Photo Gallery
#RScommemorationservice #foundersday #philanthropy #buildinggoodmen #ReadingSchoolFamily