Be Kind...World Mental Health Day October 2018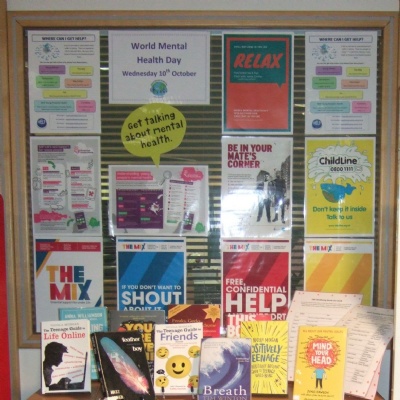 De-stigmatisation of mental health with the focus on preventative measures...
The World Health Organisation recognises World Mental Health Day on 10th October every year. This year's focus is on young people and mental health in a changing world. According to mental health charity, Mind young people can experience a range of mental issues in their childhood.
Here at Reading School, we encourage our pupils to see that their mental health and wellbeing is an important part of their overall self-development. To help mark World Mental Health Day, Jamie Cottle, Health & Wellbeing Prefect, led on creating a chill zone in the LRC to raise awareness and advocacy among his peers of mental health around the world.
Jaime said:
"I worked closely with Mrs L Kesteven and Miss L Ayers to create a relaxation zone in the careers section of the LRC. We served free herbal tea and fruit to many students and staff with music, which helped to create a very comfortable atmosphere. I also took this opportunity to collate feedback on how PSHE is run within the school, both with an anonymous suggestions box and by having lots of conversations with members of staff and students of multiple year groups. This feedback will be used in an upcoming anonymous survey I am creating for each year group to vote on what topics they feel most interested and in and what topics they might like covered in PSHE. Miss Ayres also provided tips on how a good diet and sleep routine can improve mental health with handouts distributed around the school. We were extremely pleased with the success of this event as many walked away relieved of stress and many asked for a similar event in the future possibly on a termly basis.

Over the course of my year I will further promote de-stigmatisation of mental health with the focus on preventative measures."
We would like to thank the Student Support Team, Mrs L Kesteven, Mrs L Ayres (Assistant Head) and Miss S Rogers (Head of SENCO) for helping to make today a great success. There will be much more to come from Jamie throughout the year.
Reading School's commitment to Staff wellbeing is of paramount importance and this year some staff took the opportunity to switch off for 20 minutes and enjoy an Indian Head Massage and end the day with some active participation in a game of Frisbee after school.
#ReadingSchoolFamily #BulidingGoodMen #WorldMentalHealthDay #HandsUpforMentalHealth #LetsTalk #Healthforall #TimetoChange