Civil Engineering Inspire Lecture - November 2018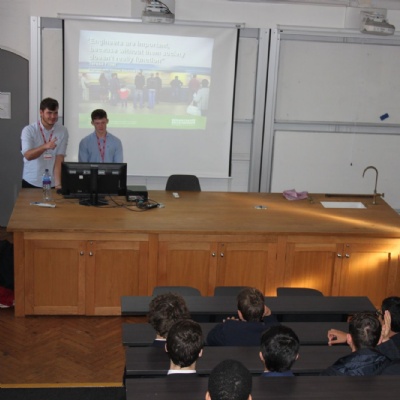 Is Civil Engineering for you?
Civil engineering is everything you see that's been built around us; roads and railways, schools, offices, hospitals, water and power supply and much more. Civil engineering graduates are the brains behind all the largest and most essential structures.
Last week, on 8 November, Reading School alumni George Malone (OR 2010-17) and Sam Jackman (OR 2015-17) now scholars under the Institute of Civil Engineering QUEST Undergraduate Scholarship returned to Reading School to talk to those interested in studying or a career in Civil Engineering. George, who studies at the University of Bath and Sam, who studies at the University of Bristol evoked genuine interest in studying civil engineering. They answered questions on what studying civil engineering involves, what jobs they work on and how the different their placements in consulting and contracting offered considerably different experiences following a career path into engineering.
Ashley L (Year 13) commented:
"It was interesting to see the opportunities that are included within a civil engineering degree, especially through the Quest scholarships, and the variety of designs and projects that George and Sam did in their summer placements. They portrayed civil engineering as useful and beneficial degree choice for university, and I think they helped some students to learn more about it and inspire them to consider it for their own futures."
Mr D Wheal, (Head of Chemistry and Physics) said:
"We are extremely grateful to both George and Sam for returning to the School to share their experiences with current pupils, who show an interest in Civil Engineering. The Projects both Sam and George have worked on were very interesting as well as informing the pupils of the many opportunities available to anyone considering a career in this field."
Special thanks to Mr D Wheal and Ms L Ayres and the events team for arranging.
#Civil Engineering #ReadingSchoolAlumni #ICE_Engineers #RSKeepInTouch #STEM #OldRedingennsians 'ICE_engineers