Arab World Day 2018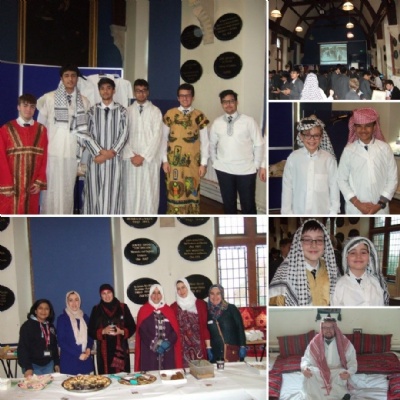 Reading School celebrated the Arab World on Monday 3rd of December. Staff and pupils were invited to try Arab World food, traditional dress, Arabic writing, Islamic art, a Bedouin rug floor, books, handicrafts, quizzes, music, Dabka dance and documentaries. The event was organised by Reading School parent, Mrs H Tamim.
Mrs H Tamim said:
"We would like to thank Reading School for welcoming the local Arab community to Reading School. Reading school is always encouraging parents to be involved in school activities so we were grateful to be able to celebrate the Arab World from our perspective. This world is rich with Culture, History and Heritage. The success of that event was from those elements.

The students were amazing and they reflected their happiness in every activity. Even the staff shared these lovely moments. This will encourage us to keep going and work hard to show the real image of that World. We hope that students and staff will open the doors of the Arab World widely and keep reading and exploring the truth of that world from trusted references".
"It was a really amazing event." Yaman (8S).
"I think that our visitors put on a delightful show and I very much appreciate what they did." Saikrishnan (8S)
"It was very interesting to see how they teach Arabic and how complicated it is." Samuel (8S)
"Everything was very traditional and nicely presented. I enjoyed it." Rahul (9L).
"I really liked the food and the clothes were a good experience and a fun way to experience Arab culture." Siddharth (9L)
"It was really engaging and I liked the music." Aryan (9L)
"It was a very nice experience and I hope we have something like this again soon." Adam (8E)
"It was great to experience a different culture and to learn about it." Abubakr (9W)
"I think it was very well organised with lots of tasty food!" Anuj (7L)
"It was really fun and interesting. I enjoyed all of it and I learnt a lot." Donny (7L).
We would like to pass on out thanks to all the parent and pupil volunteers and to the following local community groups who worked so hard and contributed to this event:
The Berkshire Muslim Arab Community Association (BMACA); An-Nour Supplementary School; Omani Society in Reading; Saudi Society in Reading; The Founder of Cultural Palestinian Dabkah Dance Mrs Dima; Bakery House and the Istanbul Food Centre.
Mr A M Robson said:
"Thank you to all the staff, parents and pupils involved with World Arab Day. It is essential to embrace and celebrate different cultures allowing for pupils to reflect, acknowledge and celebrate diversity whilst learning about differences. This encourages the appreciation of a diverse school population, and brings a sense of connection between disparate cultural heritages within a single school's culture. It is certainly in the best interest of students and teachers to focus on the richness of our diversity. Recognising and acknowledging our differences is part of treating students fairly and equally."
Special thank you to the Estates team, IT team for their co-ordination as well as Mrs L Ayres (Assistant Head) . A huge thank you to Mrs L Kesteven (School Librarian) for coordinating the whole day.
#WorldArabDay #ReadingSchoolFamily #BuildingGoodMen #diversity #culture