Inspire Lecture: GES Ambassador Network - 18 January 2019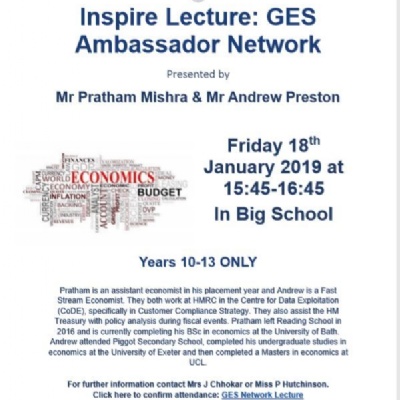 Reading School will host a talk by Pratham Mishra & Andrew Preston on Friday 18th January 2019.
Pratham left Reading School in 2016 and is currently completing his BSc in Economics at the University of Bath. Pratham is an Assistant Economist in his placement year and Andrew is a Fast Stream Economist. Andrew attended Piggot Secondary School and completed his undergraduate studies in Economics at the University of Exeter and then completed a Masters in Economics at the University College of London. They both work at HMRC in the Centre for Data Exploitation (CoDE), specifically in Customer Compliance Strategy. They also assist the HM Treasury with policy analysis during fiscal events.
This talk is only open to Reading School pupils in Years 10-13. Pupils can confirm attendance to the lecture, please click here: GES Ambassador Network
For further information, please contact, Jas Chhokar or P Hutchinson at events@reading.school.co.uk.