Computer Science in Action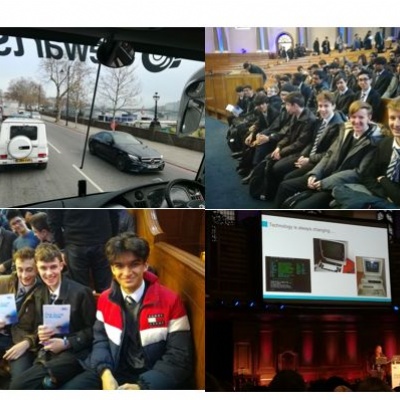 As the end of year approached, the Reading School Year 12 computer scientists set off early in the day, heading towards London and the amazing Emmanuel Centre
The students settled down for a series of lectures on browsing the world with Computer Vision; the magic of computer science with computational thinking; artificial Intelligence and digital Forensics.
Here is what some of the students said:
"The main focus of the speech was the importance of designing good UI and the symmetries it has with magic. Whilst the focus of the latter is drawing the viewer's attention from where they should be focusing – thus hiding the trick – the former should, according to the speaker, aim to do the opposite and attract the user's attention to the most important parts of the UI. For instance, a five key keypad requires the viewer to look at the screen of the device, helping avoid input error – indeed, a study showed they led to the lowest rates of input error and, whilst this came with a loss of speed, this is incredibly valuable is applications when correct data is vital, such as in medical devices."
Paul C (Year 12)
"Personally, I think this was the most interesting lecture from the computer science in action lecture. I thought that the lecturer was very engaging and informative of what she does and how she does. She was walking through the process of digital forensics and how detectives must recover any digital items that could potentially support the case, protect the objects from damage. Some of the things that detectives investigate in call logs, hard-drives, monitors, data on the computer and hidden files."
Jaimi A (Year 12)
"I found his talk about Augmented Reality using mobile devices very engaging. He worked for Blippar, which is a visual discovery app, using augmented reality and machine learning to bring the physical world to life through smartphones and wearables. He explained the process of making accurate models like these and adapting them to the user's environment."
Tushar S (Year 12)
"In my opinion this was one of the most interesting of all of the lectures as he was the only guest-speaker that we could all relate to. The future of AI is a very serious topic pertinent to our generation as the advancements of Computer Science will be most probably be in ten to fifteen years. He talked about the various ethics and advancements of Artificial Intelligence and how it was compared to his generations. He also talked about how the Memory Board of our phones is more advanced and more beautiful than anything else designed."
Nigel S (Year 12)
After a day of informative lectures that often probed deeply into many essential aspects of the computer science topic, we headed back to Reading School to contemplate our future careers.
#ReadingSchoolFamily #ComputerScience #SchoolTrips #EmmanuelCentre #RSEnrichment #STEM