Career Convention 2019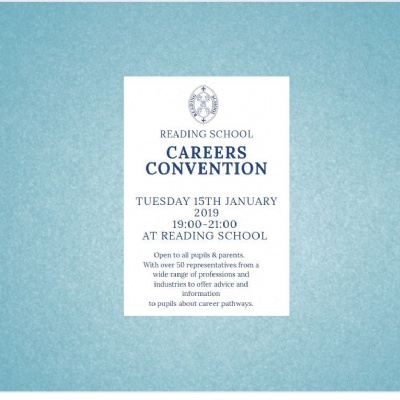 Reading School Careers Convention is taking place on Tuesday 15 January 2019
Reading School is delighted to be hosting its biennial Careers Convention 2019 on Tuesday 15 January, from 19.00 to 21.00, open to all Years.
The purpose of this is to give all pupils (especially those in Years 8 to 12) and parents the chance to talk to representatives about various careers and professions throughout the evening. We hope that as many pupils as possible will take advantage of this opportunity of finding out about careers.
We are also proud to be presenting a series of talks from inspirational speakers throughout the evening, in two separate venues (Big School and the Lecture Theatre). Each speaker will be delivering their talk twice.
Attendance at these talks will require booking, due to limited space, via the links below:
For bookings in Big School: https://www.trybooking.co.uk/HPB
For bookings in the Lecture Theatre: https://www.trybooking.co.uk/HPC
If you have any further questions, please do not hesitate to get in contact by emailing careerscon@reading-school.co.uk
#RSCareersConvention #ReadingSchoolFamily #Careers