New York Times bestselling author, Taran Matharu talks about the Summoner book series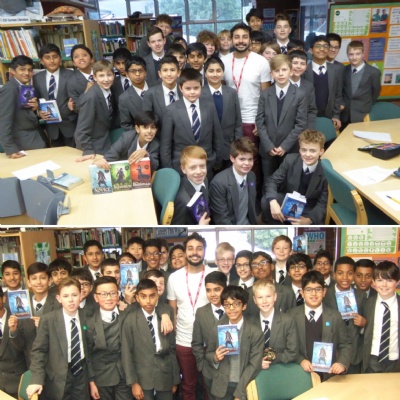 Taran Matharu started writing at the age of 9 and began writing The Novice, the first book in the Summoner series, on Wattpad at 22. After reaching several million reads, it was eventually published and translated into 14 languages.
Pupils were given an exclusive insight into how he came up with the ideas for his Summoner Series and then tried the method themselves to create their own story ideas.
Aadityan (7S) said:
"I enjoyed this event a lot. I learnt that you can write books and get them published at any age. Having a workshop is very useful because we get to meet people who can become an inspiration to us."
Anirudh (7S) commented:
"I really enjoyed Taran coming in on Wednesday. I learnt how to create ideas out of my own interests and it inspired me to start writing. It encourages me to start writing in my free time. This workshop was so helpful!"
Peiyan (7L) stated:
"Loved it! I learnt about how to write a better book and this also encouraged me to read his books! Very useful!"
Armaan (7W) said:
"I've been reading Taran's books since Year 5 so it was a great pleasure to meet Taran in person and listen to his journey into writing books".
This is the third time Taran has visited Reading School and we thank the Old Redingensians Association for their generous funding to enable us to provide the pupils with such a memorable and inspiring opportunity.
We would also like to sincerely thank, Mrs A Jackson and Mrs L Kesteven for all their hard work in arranging the talks during book week.
#BookWeek2019 #ReadingSchoolBookFair #Reading #RSEnrichment #RSBookFestival2019 #WorldBookDay #OldRedingensians