The winner of Drop Everything & Read Competition 2019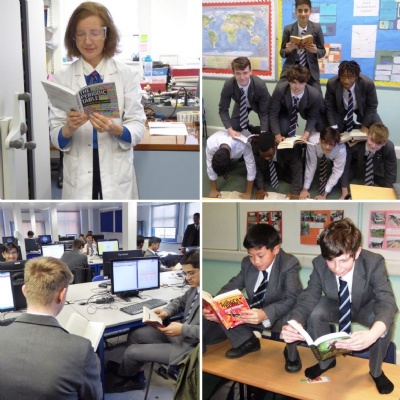 Drop Everything and Read ("DEAR") is a popular feature of our annual Book Festival
It coincides with World Book Day which is traditionally the first Thursday in March.
It is designed to encourage reading across the curriculum and throughout the school community whereby both pupils and staff alike stop their normal day to day activity and read.
This simple activity encourages reading and aims to inspire a love of books and a sense of wellbeing in our busy lives.
Mrs A Jackson (LRC) and Ridge F (Year 12) travelled around the school capturing what happened when everyone took part.
Prizes have been awarded to the following for the most creative staff and student photos:
Overall Winner: Year 11 Geography (Dr Young)
2nd Prize: 7L Geography (Mr Gunson)
3rd Prize: Year 10 Computer Science (Mr Fooks)
Staff Winner: Mrs H Stapleton (Chemistry Technician)
Congratulations to all the winners and thank you for taking part.
Reading School hopes that this event brings us together as a reading community which embolden aspirations for imagination and knowledge through reading.
#DropEverythingAndRead #Books #BookWeek2019 #ReadingSchoolBookFair #Reading #RSEnrichment #RSBookFestival2019 #WorldBookDay2019 #OldRedingensians