Alumni Talks: Tads Ciecierski-Holmes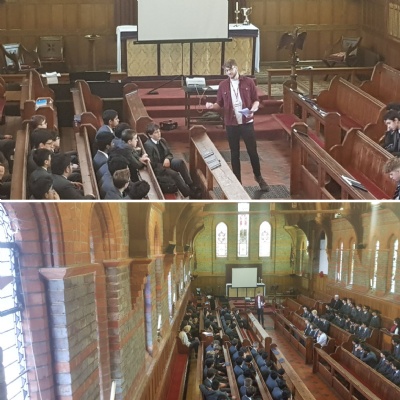 Reading School students over the past 2 years have volunteered at the Children and Women's Centre teaching English to disadvantaged children and women. The Fountain of Life Centre which works to combat issues that face Pattaya City.
We welcomed back Tads Ciecierski-Holmes (OR 2009-2016) last week to speak to our pupils about the volunteering work he has undertaken at The Fountain of Life (Women and Children's Centre) and inform pupils about issues in Thailand in relation to human trafficking.
Tads drew on his time at Reading School while reflecting on some of his personal experiences volunteering in Pattaya, Thailand. He hopes to grow a continuing relationship between Reading students and the Fountain of Life.
Tadeusz-Ciercierski said:
"I came back to Reading School primarily to promote volunteering at the Fountain of Life Centre in Pattaya, Thailand, to 6th Formers who may be interested.

Reading School and Kendrick students over the past 2 years, from 3 different year groups, have volunteered at the Children and Women's Centre teaching English to disadvantaged children and women, and I hope I can foster a continuing relationship between Reading students and Fountain of Life.

During chapel this week, I spoke briefly about my time at Reading as a student and how that led me to volunteering at the Fountain of Life Centre. I then spoke about why the Fountain of Life Centre exists and the issues that face Pattaya City, namely the exploitative sex industry there. The main issue I discussed was the issues of the sexualisation of women, and how this relates to what is being experienced in Thailand and also to issues we have here at home.

Pattaya is the human sex trafficking capital of the world. The sex industry there is rife with exploitation, since many women, men and children have been trafficked there to work in brothels which many are forced to work in, or do not have the means of leaving the trade. These women are not only exploited, but also sexualised, objectified and dehumanised. Western and Asian tourists there see the women there as merely objects to be bought. Even Western tourists themselves are subject to this treatment, where it was not uncommon that men would approach me in the street asking to buy my female friends, despite being modestly dressed and making no inclination that they were offering such services.

Pattaya provides an example of somewhere where the sexualisation and objectification of women, and the exploitation of women there, is clearly wrong. But we also have more subtle issues here at home. Women are also sexualised and objectified here. Our society, although we do not explicitly admit it, values women who are physically attractive over those who are not. This in itself is a cause of self-esteem issues in women, perhaps especially during their time at school as they are developing. Although societal pressures and what is shown in the media is perhaps sufficient to cause such issues, this is something us men can sometimes exacerbate in how we talk about and treat women in our own lives.

The sexualisation is not just a women's issue though, although they are more greatly affected. Men are also sexualised, leading to a rise of gym culture and self-esteem issues as we also value physically attractive men. But something that is experienced alternatively to sexualisation is hyper-masculinisation. The ideal man that is presented to us is strong, macho, and unemotive. This is something that is damaging for men too, as we become emotionally stunted. We find it harder to have conversations about our emotions, sexuality, issues of gender, among other things, because we are implicitly told that we should not talk about these things.

But we can try to do something about these issues.

First, we can make ourselves aware of these issues. We can look at how we behave, the conversations we have with others, and the media we consume, and identify where these problematic ideals are being perpetuated.

Second, we can reflect on our own behaviour and beliefs about men and women. Are we perpetuating damaging ideals? Do we talk about girls in a way that sexualises and objectifies them? Do we talk about women differently in groups of guy friends than say one-to-one with girls, and if so, why? Can we change how we behave?

Third, we can try to challenge others. For example, we can challenge how others talk about women in conversations with each other, we can challenge how our friends treats girls at parties, or we can challenge predatory behaviours of men in nightclubs. A more open dialogue with each other about these issues may be one way for us all to reflect on our behaviours that will hopefully lead to change.

Finally, we can also try to help those affected by these sorts of issues. For example, volunteering at Rape Crises centres or in areas such as Pattaya at the Fountain of Life centre, and experience intense examples of these issues and gain greater understanding.

But ultimately the most powerful change we can make is by shifting paradigms, and changing how we all view men and women such that the ideals we promote are less damaging for us all."
Mr A M Robson (Headmaster) said:
"We have a responsibility to ensure that our young men grow up as good men. The importance of healthy, respectful relations is crucial to this. Tads provided students with insight into the best and worst of human behaviour. He undoubtedly left us with much to reflect upon. Our challenge should be - How can we be good men?" When are we going to do make a difference?"
A true inspiration and example of "Building Good Men" – thank you Tads for returning to Reading School to share your experience.
#ReadingSchoolAlumni #RSKeepInTouch #OldRedingensians #GivingBack #TheFountainOfLife #RSGiveBack #Volunteering #education #BuildingGoodMen