Success at the Inter-school Model United Nations Conference March 2019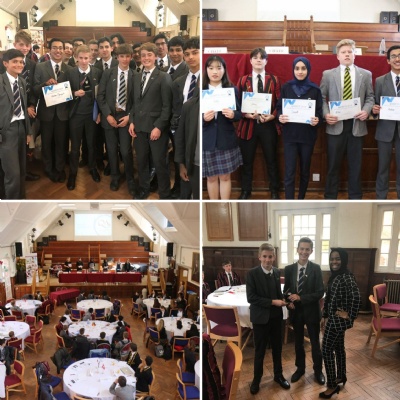 Congratulations to Reading School students on winning "Individual Speakers" at the Inter-School Model United Nations debating on today's world issues.
On the 26th March 2019, a team of Year 10 students participated at the Inter-School Model United Nations Conference kindly hosted by Queen Anne's School, Caversham competing against the host school, Oratory School, Shiplake College and Reading Girls School.
Model United Nations is an extra-curricular activity in which students typically role-play delegates to the United Nations and simulate UN committees. Student delegates learn about diplomacy, international relations, research techniques, public speaking, debating, compromise, and writing skills in addition to improving their critical thinking, teamwork and leadership abilities.
Malhar D (10S) explained:
"The 20 students were split into 5 countries: The United States, Germany, Nigeria and New Zealand. Each country of 4 delegates was split into pairs, with a task of researching the specific country's foreign policy on a given issue and bring a resolution on different committees such as the WHO , UNESCO , UNHRC etc. which they had been allocated to.

After lobbying and debating resolutions on the committees, all countries on each committee had to vote for a resolution to go forward to be debated at the General Assembly, which was where all 100 delegates of different countries would convene.

After lunch all delegates received an eye-opening talk from Mr Daniel Boyes, a former Project Officer for the UNHRC stationed at Mostar during the Bosnian War, did the General Assembly start. With great performance at the committees, 3 out of the 5 resolutions debated were by Reading School students. Consequently after very long debates on different issues ranging from antibiotic resistance to the proliferation of arms to terrorist organisations did the conference finish.

To our great excitement Alex (10S) and Sam (10E) won the conference with the most votes as Germany proposing a resolution on arms proliferations to terrorist organisations. Malhar (10S) won Best Delegate on behalf of Reading School. The day was extremely insightful and enjoyable. All of us learnt and developed negotiation, public speaking and teamwork skills."
Mr A M Robson, (Headmaster) commented:
"Many congratulations to Malhar D (10S), Alex N (10S) and Sam H (10E) and all the Year 10 students who participated in the Model United Nations Event. Public Speaking is a key attribute to successful leaders in delivering clear and concise communication whilst amplifying expression and performance. Our students have excelled in this competition and we wish those representing England in the World Individual Debating and Public Speaking Championships in Toronto, Canada, over Easter, further success."
We are most grateful to Mr D Whitehorn (Teacher of History), Mr S Allen (Head of House and Teacher of PE) and Mrs L Ayres (Assistant Head) for arranging this great opportunity for students to participate in."
#ReadingSchhol #RSEnrichment #UN #UnitedNations #ModelUnitedNations #WHO #UNESCO #UNHRC #ModelUN #MUN
Photos include:
Year 10 Team
Malhar D (10S) debating at the General Assembly as the USA and awarded 'Best Delegate' on behalf of Reading School
Alex Neville (10S) (left) and Sam Hill (10E) (right) crowned winners of QAMUN 2019 with the most votes