Reading School working in partnership with Reading University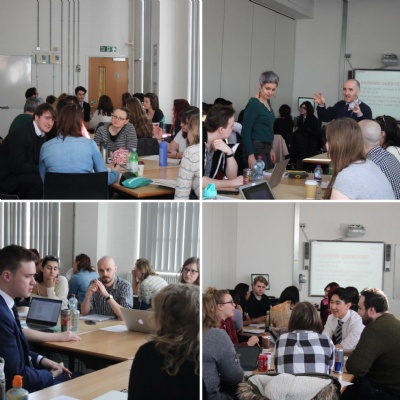 Reading School pupils provided an insight into teaching from a student perspective to Trainee English Teachers at the University of Reading.
Robert Baldock (Head of English) is not only an inspirational teacher to our students at Reading School, he is also an ambassador and a role model for the teaching of English to professionals at the outset of their career. He is seconded to the University of Reading as an Assistant Tutor on the Secondary English Initial Training Course and has successfully integrated Reading School students into the process.
Joe H (13MRC) commented:
"It was one of those times when you see potentially your future in front of you, putting these two years of sixth form into perspective. Particularly the questions they asked, all about the influence English had had on us as students: how different aspects of the course was taught, what texts we were studying and what we considered the role of teachers in all of that. Ultimately it was a really valuable broadening out of what English A-Level consists of."
Mr A M Robson (Headmaster) stated:
"Mr R Baldock (Head of English), is at the vanguard of our partnership work with the University of Reading, ensuring a pipeline of motivated and dedicated English teachers for the profession. Mr Baldock is a superb ambassador for Reading School."
#UniofReading #ReadingSchoolFamily #BuildingGoodMen #English #PGCE #TeacherTraining