DRAMA DEPARTMENT GALA PERFORMANCE 2019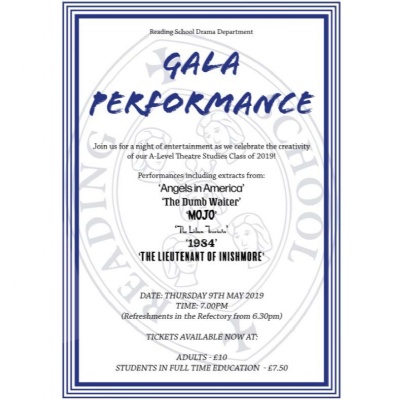 Join us for a night of entertainment as we celebrate the creativity of our A-Level Theatre Studies Class of 2019
They will be showcasing all of the pieces they have worked on over the last two years on Thursday 9th May 2019 at 19.00 in DS1. This promises to be an evening full of theatrical talent.
Performances including extracts from:
'Angels in America' by Tony Kushner
'The Dumb Waiter' by Harold Pinter
'Mojo' by Jez Butterworth
'The Lisbon Traviata' by Terrence McNally
'1984' by Robert Icke & Duncan MacMillan
'The Lieutenant of Inishmore' by Martin McDonagh
Refreshments will be available in the Refectory from 6.30pm
Ticket Prices: £10 Adults £7.50 Students in Full Time Education
Click here to buy your tickets: Drama Gala Performance Tickets. Tickets are strictly limited so book soon!
If you have any questions about the evening, please contact cfooks@reading-school.co.uk
#ReadingSchoolFamily #Drama #RSDrama #PerformingArts