Reading School at the 31st Individual Debating and Public speaking Championships (WIDPSC) in Toronto, Canada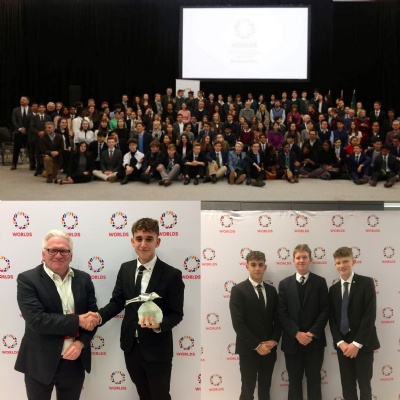 This Easter, the Reading School Debating Team participated in the 31st World Individual Debating and Public speaking Championships (WIDPSC) from 11th- 17th April hosted by Branksome Hall, in Toronto, Canada.
The World Individual Debating and Public Speaking Championship is an annual international English language debating and public speaking tournament for individual high school-level students representing a diverse range of countries and cultural backgrounds.
Reading School students Benedict C (12MRC), Aleksandar S (12AC), Malhar D (10S), Arvind A (10S), Hugo R (12CF), Sanskar D (11C) & Robert U (12DAW) competed with over 100 other high school students in four different events: Debate, Impromptu Speaking, Persuasive or After Dinner Speaking and Interpretive Reading. Special congratulations to Aleksandar S (12AC) on achieving 3rd place in the finals for Impromptu Speaking.
Aleksandar S (12AC) commented:
"When I got selected for this competition by Mr Allen I told him 'I'm going there to win', to which he replied 'it's also a great experience' – and he was right. I got to meet people from all around the world and enjoy their performances and spending our free time with them. We also spent our free time meeting ORs living in Toronto and sightseeing the CN tower and Niagara Falls. We made countless numbers of memories and learned so much about having the courage to step up on stage and speak about something you actually cared about. But I also got to the Finals in Impromptu Speaking and then came 3rd – so who was really right? Probably Mr Allen."
Arvind A (10S) also commented:
"At WIDPSC, I was the youngest competitor by far and this was quite a daunting challenge to go up against 18 and 17 year olds in a world competition, but it was an extremely rewarding experience. I achieved a full set of 90s in my second debate which was unheard of from someone my age and I also did pretty well in my persuasive speaking and my impromptu. At this competition, you learn to communicate various societal ideas, problems and solutions which could someday help the human race and we get to speak freely about our own thoughts and feelings. We also learn to communicate with members of the global community and not just our close knit country team, for example I was paired with a South African for my debate and he was a great guy and very intellectual, humorous and kind, and it was a rewarding experience working with someone like him. All in all, the many great and kind people I have made lifetime bonds with, and the Old Redingensians who we had the pleasure of meeting, this was a trip of a lifetime and I hope that I get the opportunity to go another year. It was great to be featured on CTV News Toronto see the clip here: CTV Toronto News Clip"
This occasion also brought with it the opportunity to meet with Reading School Alumni living in Toronto. The RS Debate Team met with Old Redingensians, Thomas Santram, VP of Cineplex and keen County House supporter, as well as Nick Oldland, a successful entrepreneur of the Hatleys clothing line. Both were excited to hear how the school is flourishing and proud to have a Reading School team representing in the WIDPSC championships. We thank both Thomas and Nick for taking the time to meet with Mr A M Robson, Headmaster, Mr S Allen and pupils of Reading School.
Special thanks to Mr A M Robson, Headmaster and Mr S Allen (Head of House) for supporting the pupils and accompanying them on this World Class event.
#ReadingSchoolFamily #RSKeepInTouch #WIDPSC #BranksomeHall #Toronto #Canada #PublicSpeaking #Debating #TheReadingWay #OldRedingensians #BuildingGoodMen #Excellence