National Badminton Final Winners: First Milton Keynes then the World…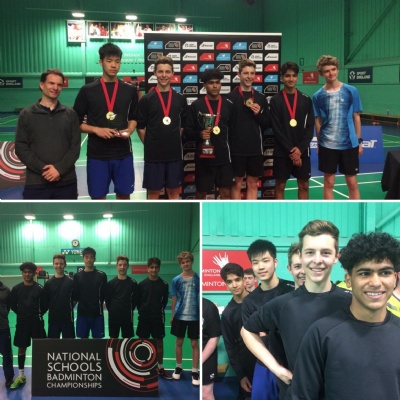 Was it nerves? Was it complacency? Or perhaps was it due to the strength of our opponents responding to playing the number one seeds and pre-tournament favourites? Probably a combination of all three. Potentially Reading School may have suffered the same fate as Germany in the 2018 World Cup and fallen at the first hurdle in our match against Richard Hale School from Hertfordshire. Fortunately, the strength in depth of the squad came through in the end and we escaped with a narrow victory.
In the next match against the Cooper's Company & Coburn School from London, we once again failed to light up the court. It was left to Tony X (11C) and Aadi G (11C) to ensure that we were ultimately victorious in the second group stage encounter. Dev M (10W), played an important supporting role in the doubles and Thomas G (10E) was a valued member of the victorious squad.
In the two matches against Altrincham Grammar School for Boys and Tapton School from Sheffield, we certainly needed to raise our game. Our strength in depth again was the difference as we won one of the singles matches and two of the doubles matches to be victorious. Undoubtedly the team played better and there was a steely determination evident in the play of the Dillingham brothers in particular. We now knew that if we defeat Tapton School we would be crowned National Champions again.
Inspirational coach, Mr Steve Pedlow was expecting a close, hard fought match. But he was to be proved wrong. Alex D (11W) dominated his very talented opponent and this was followed by a strong performance in the third and fourth doubles pairing of Tony X (11C) and Aadi G (11C). Toby D (11E) was not going to let the side down and proved a worthy winner in the second singles match. Therefore, Reading School had an unassailable 3-0 lead. Champions again!
Victory at a National level in 2019, ensures that Reading School will represent England in the ISF World Schools Badminton Championships due to take place in April 2020, in Olympia, Greece. Alex D (11W) and Toby D (11E) will be hoping to improve on Reading School's 5th place in the 2018 World Championships in Pune, India.
Badminton Coach, Mr S. Pedlow commented:
"I am very proud of the commitment and character of the squad. We appreciate the invaluable support of parents and look forward to representing England in 2020, following our 5th National Victory in five years at Key Stage 3 and Key Stage 4."
According to Headmaster, Mr A. M. Robson:
"This victory was due not only to the talent of the players, the excellent coaching from Mr Pedlow and the support of parents. It was shaped by a culture of commitment to the team. Everyone stood up to be counted and ensured that they were indeed champions of character. Respect was earned and respect was shown to our opponent. I was privileged to be able to support the triumphant squad at the National Badminton Centre."
@BadmintonEnglnd #RSenrichment #Badminton #Champions #ReadingSchoolFamily #Excellence #Sport #NationalSchoolsBadminton @RSSportandPE