House Reading Quiz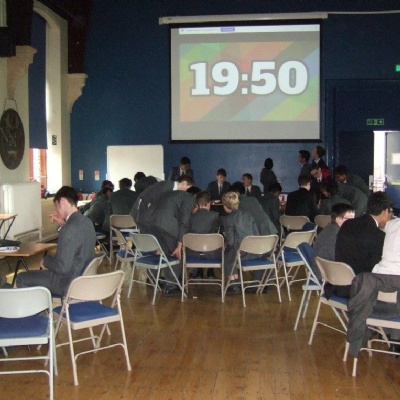 Head Pupil Librarians Matthew (10C) and Ojebo (12ANC) devised and ran our first House Reading Book Quiz in Big School
Avid readers from each House were given the opportunity to put their book knowledge to the test with a mixture of general knowledge, fiction and non-fiction questions. There was also a challenging buzz in round, finishing with a tense tie-breaker between the West and School House teams. The final House Reading results (based on both book loan statistics and the book quiz) are:
1st West
2nd School
3rd County
4th East
5th Laud
The student led quiz, the first of its kind, was an excellent opportunity for pupils from all age groups to intertwine and interact with one another, building an even stronger sense of community and giving students a unique set of challenging tasks. The school Library, run by Miss Kesteven and Mrs Jackson, is a central part of the school and its community, so it was fantastic that it got the chance to immerse itself in school competition. The quiz had a wide range of participants so hopefully it can become a regular fixture.
Ojebo commented that:
"It was awe-inspiring to see all of our brightest readers, from year 7 to year 13, pool their knowledge together and work with each other to complete the pupil librarian's quiz. We've taken feedback on our successes and suggestions for improvements and we will be sure to deliver an improved version next year."
Ojebo and Matthew worked independently to pull this event off so deserve every credit, and with their desire to improve and the fact that Matthew has potentially three more years at the school, it's apparent that the pupil book quiz has a lot of potential to become a big house event.
A very special thank you to the House Captains for organising teams for today and a big thank you to Matthew, Ojebo and the pupil librarian volunteers for running the quiz, here's to next year's event!
#ReadingSchoolFamily #Reading #Book #Quiz #Leadership #RSEnrichment #Excellence
Written by Tom J (12 MRC) and edited by Ajai G (12AVS)