Class of 2009 Reunion- Saturday 5th October 2019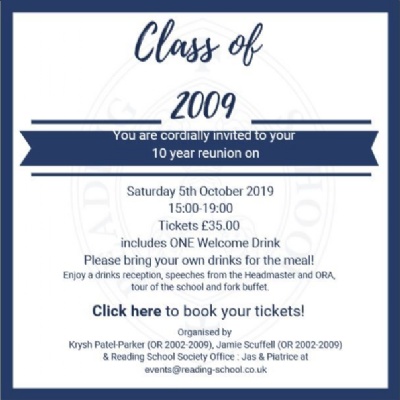 We are delighted to welcome back all 2009 Leavers for 10 year reunion celebrations on Saturday 5th October 2019
This is a time to reflect on the many changes you have experienced over the years, to rekindle old friendships, chat with some of your teachers, and to build new memories.
We look forward to celebrating with you from 15:00-19:00 on the 5th October!
Tickets are £35.00. This includes ONE welcome drink. Please bring your own drinks (BYOB) for the meal!
Please click here to buy a ticket and RSVP attendance.
Over the years, we have lost contact with some of the alumni from your class year. We encourage you to pass on the event information and invite other classmates to join us for this special reunion celebration.
If you know of any 2009 leavers, please help spread the word by sharing this page to ensure we can get as many of the 2009 class together!
For further information please contact Piatrice Hutchinson or Jas Chhokar at events@reading-school.co.uk.
Organised by Krysh Patel-Parker (OR 2002-2009), Jamie Scuffell (2002-2009) and the Society Office at Reading School.
#ReadingSchoolAlumni #ReadingSchoolFamily #ViaRedingensis #RSKeepInTouch #Reunions #2009 #10yearson #OldRedingensians