Climate Change: Facts & Implications- Tuesday 24th September 2019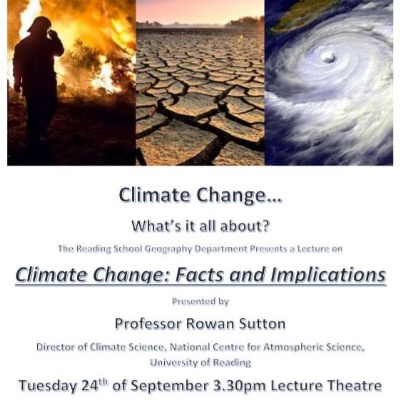 The Geography Department proudly invites Professor Rowan Sutton to present the first Geography Inspire Lecture of the year.
Professor Rowan Sutton is the Director of Climate Science, National Centre for Atmospheric Science at the University of Reading. His research includes the role of ocean-atmosphere interactions in climate, climate variability and change, predictability and prediction, particularly in the Atlantic sector.
His lecture will take place on Tuesday 24th September 2019 at 15:30 in the Lecture Theatre.
This lecture will provide an opportunity for you to extend your knowledge and understanding outside the classroom and is ideal for Year 11-13 Geography students or anyone wanting to gain high grades in Geography.
Parents, alumni and staff are also welcome.
To register your attendance, please click here
For further information, please click here Rowan Sutton Inspire Lecture or email events@readingschool.co.uk
Arranged by the Department of Geography (Mr J Gunson, Geography Teacher & Head of Laud House)
Please note: If you put your name down to attend an event, you must be committed to attending. A huge amount of work goes into arranging Inspire Lectures, with staff and speakers giving up their time.
#ReadingSchoolFamily #InspireLecture #UniversityofReading #RSGeography #ClimateChange #ClimateScience #Integrity