The Debating Society gets underway with a full house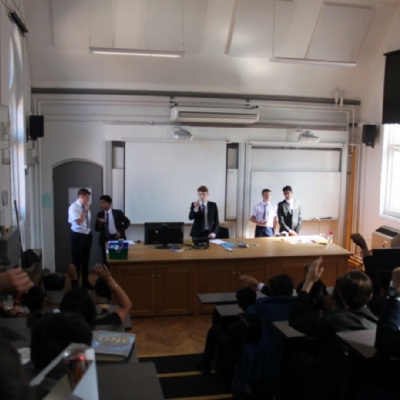 This week, the Debating Society had its first motion of the new school year: This House would privatise the NHS. Students showed great passion, wit, logic and attention to detail.
The Debating Society runs all year and is open to all year groups. Each week, the club considers a motion relating to current affairs, politics and philosophical issues. Four student speakers (split up into the opposition and proposition of the motion) prepare their arguments and devise a strategy to win over the audience with their logic, reason and oratory. Debates are lively and well attended, under the watchful guidance of Mr S Allen (Head of School House).
This week's motion was: This House would Privatise the NHS. Edward B (12JM) and Aditya K (12TA) were on the proposition team, whilst Paul S (12BSA) and Arvind A (11S) were on the opposition. The debate was chaired by School Captain, Hugo R (13VGG).
Their arguments were well constructed and based on evidence. Both the opposition and the proposition were able to think on their feet and respond insightfully to each other's points. Coupled with their wit and ability to pull on emotional arguments, they performed well under the pressure of a packed Lecture Theatre. The audience also had a chance to join the debate and bring in their own questions and insights during the Q&A stage.
Overall, it was a showcase of Reading School's intellectual strengths. The Debating Society showed that students can engage with complex current affairs and take a multi-disciplinary, rigorous approach to the big questions of our world.
We would like to thank the students in charge of the club, and Mr S Allen for his part in organising debating at Reading School. Debating is an important part of the school's Co-Curricular Programme. Pupils can develop themselves as learners, thinkers and do-ers by engaging with the numerous Co-Curricular activities which run throughout the school week. All pupils are welcome to attend.
Click here for a full, updated list of clubs and activities.
If you are interested in sponsoring Reading School Debating Society, especially the World Debating Competition where Reading School will enter a team (due to take place in Shanghai in April 2020), please contact Jas Chhokar, Society Manager at events@reading-school.co.uk
If you are interested in being a part of a panel debate on current affairs from which our pupils would benefit, please contact the above details.
#BuildingGoodMen #RSEnrichment #ReadingSchoolFamily #Debating #ViaRedingensis @RS_WIDPSC