Working with Languages: In the Football Industry and Beyond-Monday 18th November 2019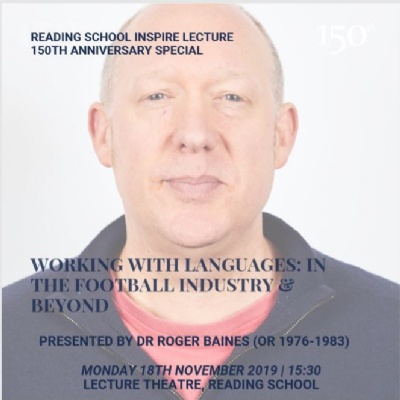 Working with Languages: In the Football Industry and Beyond- Monday 18th November 2019 at 15:30
Dr. Roger Baines (OR 1976-1983) is a Senior Lecturer in Translation Studies and French Language, and the Admissions Director for the School of Politics, Philosophy, Language and Communication Studies, at the University of East Anglia in Norwich. He studied French at the University of Warwick, spent some years living and working in Paris and Nantes before returning to the UK and starting an academic career, first at the University of Reading and then at UEA. County House Vice-captain, Games Captain, and member of the first XV in his two last years at Reading, sport still plays a prominent role in his work as he teaches and researches Translation and Interpreting in professional sport. He's currently investigating the link between communication support and wellbeing for elite migrant footballers.
This lecture will take place on Monday 18th November at 15:30 in the Lecture Theatre.
It is open to all students and parent. Staff are also welcome.
Please click here Dr Roger Baines- MFL Lecture Poster
To register attendance please click Dr Roger Baines- MFL Inspire Lecture Register
Arranged by Piatrice Hutchinson (Society Assistant)
For further information contact Miss P Hutchinson or Mrs J Chhokar at events@reading-school.co.uk
Please note: If you put your name down to attend an event, you must be committed to attending. A huge amount of work goes into arranging Inspire Lectures, with staff and speakers giving up their time.
#ReadingSchoolFamily #InspireLecture #MFL #Football #French #UniversityofEastAnglia #UniversityofReading