Complimentary Tea and Exam Tips for World Mental Health Day- 10 October 2019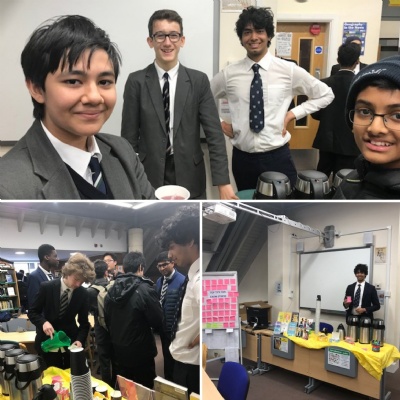 Every year, on 10 October, The World Health Organisation recognises World Mental Health Day. Mental health problems can affect anyone, any day of the year, but yesterday Reading School students came to show their support for better mental health and well being.
Wellbeing Prefect Shaan M (13MK) and Pupil Librarian Ammar E (10E) organised and ran a "complimentary" tea and exam tips chill out zone in the LRC to raise awareness of mental health and wellbeing on World Mental Health Day.
Each cup of herbal tea was accompanied by a compliment from a fellow pupil. According to the Mental Health Foundation, talking is good for your mental health. Giving and receiving compliments is a great way to feel good and by the end of lunch we had run out of tea.
Deputy Head Pupil Librarian, Vamshi D (12TA) had the great idea of asking sixth form students to give their exam tips for Y11 as they had an English mock that afternoon. Advice ranged from sport to reading to preparation and room tidying!
The LRC offers a range of mood boosting books and books to help with mental health and wellbeing.
Ms G Pravda from Student Support commented:
"We're here to help the whole student body; from academic support to health and wellbeing we're here for everyone".
#ReadingSchoolFamily #WorldMentalHealthDay #BeBodyKind #BeMindful #BuildingbetterMen #MentalHealth #ViaRedingensis