An Introduction to Health Economics: Behavioural and Data Science Applications to Global Health Issues- Tuesday 14th January 2020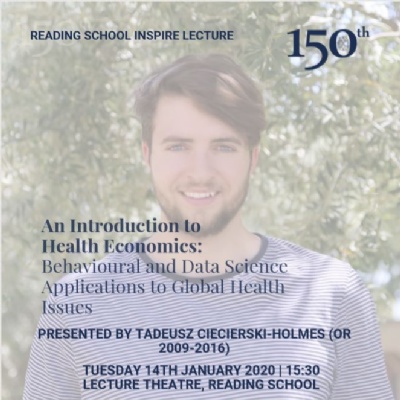 Tadeusz is a final year undergraduate economics student at St John's College, University of Cambridge. Alongside his studies, he is working as a remote research assistant for the Camerer Behavioural and Neuroeconomics research group based in Caltech, and he is the Deputy Director of the Cambridge Development Initiative, a student-led development organisation working in Tanzania that implements projects in Health; Education; Entrepreneurship; and Water, Sanitation and Hygiene (WaSH).
Tads' current research focuses on fee-based health behaviours, specifically focusing on projection bias and demographic differences in the overestimation of self-control found in gym membership data. He hopes his research can provide insight for other health behaviours, such as medication adherence.
His talk will focus on why health markets and health consumer behaviours require their own field of study separate from straight economics, as well as talking about some emerging areas of research in behavioural economics, data science and health technologies that are addressing global health issues.
If you would like to attend this lecture, please click here to register your attendance- An Introduction to Health Economics- Presented by Tadeusz Ciecierski-Holmes- Form
For further information, please contact Miss P Hutchinson or Mrs J Chhokar at events@reading-school.co.uk
#ViaRedingensis #ReadingSchoolFamily #BuildingGoodMen #ReadingSchoolAlumni #OldRedigensisans #Economics #UniversityofCambridge #StJohnsCollege #Caltech #WaSH #InspireLecture