Inspire Lecture: How Meningitis Changed My Life- Dr Steve Dayman MBE - Thursday 16th January 2020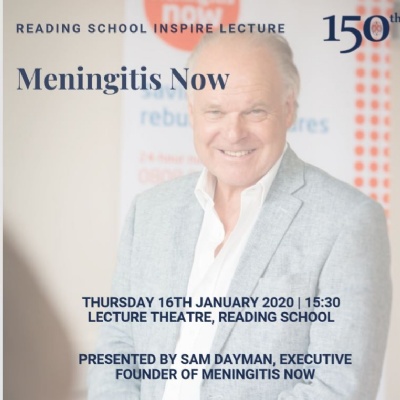 Reading School is delighted to welcome Dr Steve Dayman MBE, executive founder of Meningitis Now, the country's leading charity for Meningitis, to talk about his experience fighting back against the disease.
Steve and his wife Gloria began their relentless crusade to eradicate meningitis after witnessing their 14-month-old son Spencer succumb to the disease in 1982. After Spencer's passing, Steve and his wife started campaigning with a few friends. It was not until the 'Stroud meningitis outbreak' in the mid-1980s that Steve and Gloria met others touched by the disease.
Despite the fact that experts could not see any vaccines for meningitis, Steve started studying the disease, eventually receiving a honorary degree and doctorate, an MBE from the University of Bristol for services to medicine and picked up a special recognition Pride of Britain Award.
Steve brought meningitis to a national audience in 1986, appearing on BBC Breakfast Time TV. In the late-1990s, Steve decided to dramatically change his crusade towards funding vaccine research. Since then, he has raised millions of pounds towards preventative research including funding a £800,000 state-of-the-art research laboratory at the University of Bristol.
In 2002, The Spencer Dayman Meningitis Laboratories officially opened which now houses a £2.5 million research investment. Today, vaccines can combat many strains of the disease and are now available free on the NHS. Steve continues to spread awareness throughout the UK, meeting and inspiring thousands of families who have experienced similar tragedies.
To hear more about Steve's journey with Meningitis, come to his lecture on Thursday 16th January 2020 in the Lecture Theatre at 15:30.
If you would like to attend, please click here to register your attendance- Steve Dayman- Meningitis Now
A special thank you to Charity Prefect Ben Coneybeare for helping to organise this lecture with the Society Office.
For further, information contact Miss P Hutchinson or Mrs J Chhokar at events@reading-school.co.uk
#ViaRedingensis #ReadingSchoolFamily #BuildingGoodMen #MeningitisNow #Charity #RSGiveBack #UniversityofBristol #NHS