Senior Prize Giving 2019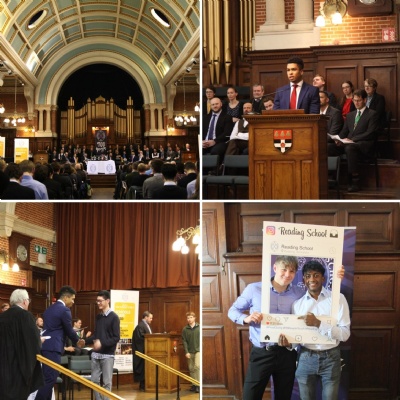 Reading School ended the Michaelmas Term by celebrating the success and achievements of senior students as well as welcoming back the Class of 2019, at the Senior Prize Giving Ceremony held on 19 December 2019, at the Great Hall, University of Reading.
This prestigious event is a celebration where we recognise the excellence, progress and commitment of our senior school students, taking pride in their individual and collective achievements.
Guests arrived at the Great Hall to the beautiful sound of the organ, played by Mr J Tunstill (Director of Music). The ceremony began with the welcome and opening words from the R Mr Kenwrick (Chair of Governors) followed by the presentation of the Annual Stipend by Cllr Paul Woodward (The Mayor of Reading) and the opening speech from Mr. A. M. Robson (Headmaster).
We were honoured to invite Ben Loader (OR 2010-2015) as our guest speaker. He delivered a moving and inspirational keynote speech, resonating with every person in the hall, in particular all the students. Ben plays as a winger for the London Irish Rugby team and spoke of his time at Reading School and the impact it has had on his career, crediting the School's support and encouragement, both in academics and the various sporting activities offered. Ben unequivocally spoke about making the most of all the opportunities that are offered as well as acknowledging the support of his parents is what has helped him to reach his goals, although humbly said he is still very much at the beginning of his career and has far to go.
Following his speech, Dr Revd C Evans (Deputy Headmaster) announced and awarded prizes in the following categories, Year 12 and Year 13 Subject Prizes and Departmental Prizes for academic achievement and strong academic results, together with sustained commitment to studies. Floreat Prizes for attitude, commitment and community and Floreat Prizes for integrity, Character and Leadership. Alongside academic certificates and awards, many students received prizes for sports, public speaking, drama and music.
A sincere thank you to Paula Hart, mum of the late Toby Davies (1997-2013) for her heart-warming speech and personally awarding The Toby Davies Memorial Cup.
A number of prizes are endowed through the generosity of recent benefactors of the School to whom we are forever grateful. This year, a number of prizes have been named after those members of the Reading School community that have made an invaluable contribution to the school. We were honoured to have distinguished guests join us on this occasion including Mr Charles Cao Lunhua and Linda Jiaqiong from Suzhou, China, Clare Mulley, daughter of late David Butler (OR 1941-1951) and Mr I McKinnon (OR 1977-1982 and President of the Old Redingensians Association). In addition, we were also pleased to see our notable guests with named awards who have kindly contributed to the life of the school.
To conclude, a final vote of thanks was eloquently delivered by School Captain, Hugo R (13VGG).
A special thank you to the Reading School Foundation for sponsoring the event and refreshments.
We wish every success to our leavers in whatever their chosen paths.
Photos can be viewed here: Senior Prize Giving 2019 Photo Gallery
Photo credits go to Mr P Stromdale (Head of Physics) and videography credits to Mr D Singh thank you for catching these precious moments.
#ViaRedingensis #ReadingSchoolFamily #OldRedingensians #PrizeGiving #RSKeepInTouch #ReadingSchoolAlumni #BuildingGoodMen #RSEnrichment #Excellence