Inspire Lecture- Tads Ciecierski-Holmes (OR 2009-2017)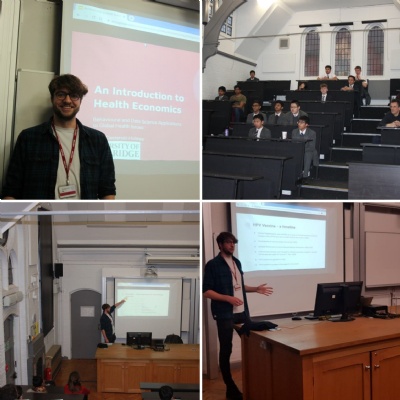 Tads Ciecierski-Holmes (OR 2009 - 2017) returned to Reading School to talk to students about his studies in Health Economics.
In his talk, Tads gave a brief introduction to economics, and health economics, and the types of issues they tackle.
Tads highlighted:
"Our focus in economics is studying human behaviour when presented with scarcity. Health economics is an increasingly important field, in both the areas of public health and economics, and also amongst professional and academic circles. There are significant challenges and exciting opportunities for those who wish to pursue this health economics further.

He narrowed the focus on research in health-seeking behaviours, a subject of interest to behavioural economists, as we do not always act in our own best interest when it comes to, for example, taking our medication or exercising. Understanding these behaviours allows us to design more effective health interventions with a great positive impact.

In better understanding individuals, data science is offering tools that allows us to better predict health demands, diagnose with greater accuracy, and tailor treatments to the individual. This may be the next big leap forward in implementing more effective treatments, and this should certainly be considered a possible career for anyone interested in computer science and statistics."
Tads commented:
"It is always a pleasure to be able to pass on some things I have learnt to the students here, and I hope other alumni continue to reach out to do the same!"
Mr A M Robson, Headmaster said:
"We have exceptional alumni embarking on research or careers who return to Reading School every year to help inspire the next generation. It is a positive influence for our young men to see those before them reach the career aims and goals they have now. Thank you to Tads for demonstrating how to achieve your full potential, both academically and socially. We take great pleasure in being able to celebrate the success and excellence both within and beyond Reading School and use the achievements of our Old Redingensians in order to illustrate to our current students how to excel and achieve real success.

We wish Tads all the best with his final exams, and we are certain that he is going to go far."
Inspire Lectures are opportunities for students interested in pursuing similar careers and serves as a source of inspiration and advice to current students and recent graduates with regards to potential career paths.
If you would like to follow his podcast series, please click the links below:
Website - https://hearthisidea.com/episodes
Spotify - https://open.spotify.com/show/442fxr9pe0tbDtqEikODch
Pocket Cast - https://pca.st/5bclatq6
If you are interested in leading a workshop or giving an Inspire Lecture on a specific industry or share your career pathway beyond Reading School, please do get in contact with Jas or Piatrice in the Society Office at events@reading-school.co.uk. Particular interest is in medicine, scientific research, finance industries, computer science, engineering, languages and the creative arts.
#ViaRedingensis #ReadingSchoolFamily #BuildingGoodMen #ReadingSchoolAlumni #OldRedigensisans #Economics #UniversityofCambridge #InspireLecture