Alumni Stories: Neil Shabong (OR 2009-2016)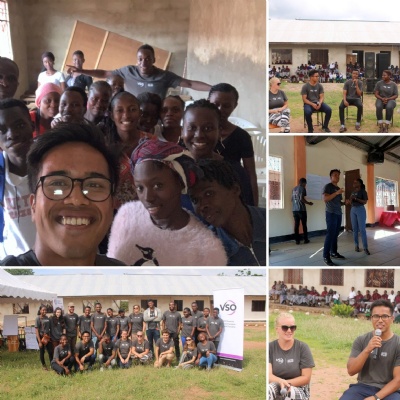 Former School Captain Neil Shabong (OR 2009-2016) undertook a 10-week volunteering placement in Tanzania, as part of the International Citizen Service (ICS).
After leaving Reading School, Neil went on to read Economics and Management at Pembroke College, University of Oxford before taking part in the ICS. ISC is a government-funded programme which brings together 18-25 year olds from the UK. It aims to work on the most pressing global issues to tackle poverty.
Neil's project was focused on solving poverty through entrepreneurship and business growth at the grassroots level:
"Young people in Tanzania are ambitious and entrepreneurial. However, the job market is extremely competitive many young people lack employability skills. In addition, the tough business environment means there is insufficient support for those who want to start their own businesses. Overall, this means youth unemployment is a major challenge in Tanzania.
To solve this, we helped train community-based start-ups so that they could plan and manage their businesses sustainably and profitably. Secondly, we taught employability practices and life skills such as public speaking and presenting to marginalised youth. Thirdly, we helped to grow small and medium-sized enterprises by helping them access special bank microfinance schemes.

We collaborated with local and international governments and NGOs such as the Tanzania Local Enterprise Development (T-LED) and Cuso, a Canadian international development organisation. This means that our approach took the best of local and international expertise."
Neil thoroughly enjoyed his project as it provided an opportunity to expand his world-view whilst making a positive, tangible impact on global issues:
"Living like a Tanzanian in a local host family opened my eyes to new philosophies. Being exposed to the community helped me realise that development issues are broad and interconnected. International development work is vital to tackle these problems as it combines financial support of policymakers and NGOs with the support of ordinary people, who to devote their time and effort to volunteer."
Reflecting on his time as a student at Reading School, he urges pupils to engage in international development and volunteering:
"As a former Reading School pupil, I am tremendously grateful for the skills and values I was taught during my study. We are fortunate that the education and extra-curricular activities at Reading School provide a strong foundation so that we can fulfill our potential. International development work and volunteering is a great way to leverage this to make a positive impact. Programmes like ICS are also a fantastic way to improve your employability and gain valuable people skills such as teamwork, conflict management, and relationship-making. These skills are not easy to develop but having done ICS, I feel more capable as I enter the world of work. I would encourage Reading School boys to do something like this during their gap year or after university – it's a great chance to take time to develop personally before taking your next step."
To find out more about his journey, please visit this article. To contact Neil about ICS and his journey, please find him on Linkedin.
We are always delighted to hear from Reading School alumni. By sharing your story, you can enhance the aspirations of students who wish to follow your professional path, inspiring them to succeed.
If you would like to share your story, please contact Jas or Piatrice in the Society Office at alumni@reading-school.co.uk. Particular interest is in medicine, scientific research, finance industries, computer science, engineering, languages and the creative arts.
#ViaRedingensis #ReadingSchoolAlumni #ReadingSchoolFamily #Tanzania #ICS #Volunteer #RSKeepInTouch #BuildingGoodMen