Chris Bradford opens Book Week 2020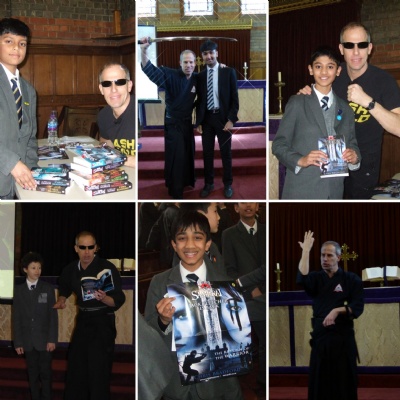 Reading School was delighted to welcome Chris Bradford, author of the Young Samurai series and the Bodyguard series, to kick start Book Week 2020 with a captivating display of samurai swordsmanship and secret bodyguard techniques!
Chris has written over 20 fiction books to date, been published in more than 20 languages and nominated for over 30 book awards, including the winner of the Northern Ireland Book Awards 2011 and the Brilliant Book Award 2014.
As a method writer, Chris trained in aikido, karate, ninjutsu and earned his black belt in Zen Kyu Shin Taijutsu for his Young Samurai series and embarked on an intensive close protection course to become a qualified professional bodyguard for his Bodyguard series. The enthusiasm for his books was infectious and by the end of each session, the queue to buy books and meet Chris snaked the length of the Chapel.
Here's what some students had to say about his talk:
"It was awesome and if all book authors are like him, where do sign up to become one?"
Noah (Y7)
"It was amazing as he included the volunteers in demonstrations and the whole thing was just very lively and had awesome vibes all around!"
Tejas, (Y8)
"It was a really good talk with humour and examples of how to use the katana. Also, we all got a once in a lifetime opportunity to get a signed book by the author himself. It also astonished me that people can kill someone with their finger".
Patrick (Y7)
"It was amazing, I was immediately captured and wanted to get the books right away".
Chinmay (Y7)
"It was really funny and full of action. It encourages me to read his books as they sound very action-packed".
Daniel (Y7)
A special thanks to Chris Bradford for visiting our school for Book Week 2020. All year 7 and 8 were lucky enough to attend this fantastic author talk. We sold 186 books on the day and all the LRC copies of Chris' books went out immediately after the talks.
We would also like to thank the Old Redingensians Association for generously funding all the author talks for our Book Week this year and enabling us to provide such a fantastic opportunity for the boys.
Thank you to Mrs Kesteven and Mrs Jackson from the LRC for the tremendous work that has gone into arranging all the author talks and coordinating Book Week 2020.
Interested in sponsoring Book Week 2021? Would you like to promote your book through Reading School's avid readers during Book Week? Are you an OR who has written a book and would like to launch this through Reading School? Please contact the Society Office at events@reading-school.co.uk.
#ReadingSchoolFamily #ViaRedingensis #BuildingGoodMen #BookWeek2020 #ReadingSchoolBookFair #RSEnrichment #OldRedingensiansAssocation