World Book Day Celebrations with Author Holly Webb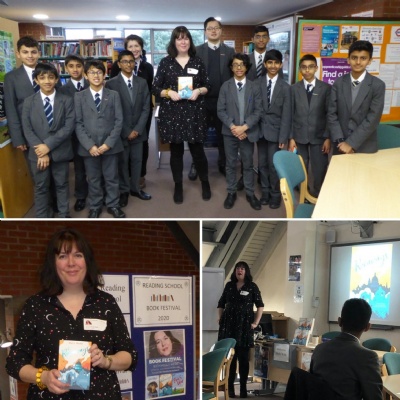 Local children's author and Reading School parent, Holly Webb joined pupils for an informal lunch-time talk on World Book Day.
Holly has written over 100 books and worked as a book editor for Scholastic before becoming a best-selling author. We were lucky to have Holly join us to talk about her experiences as a writer in an informal session in the LRC. She spoke about the inspiration behind her latest book, The Runaways, a story set during World War II. She also talked about her love for books, what inspires her writing and how she has made a career out of her passion for reading.
Raghav N (7C) commented:
"I enjoyed the talk because not only did it tell me about Holly Webb's new book but it also gave me an idea of where she got her inspiration from."
San C (8S) also said:
"It was very interesting to hear how a book plot is written and how much effort goes into it."
Alec L (10E) added:
"It was very interesting because there were lots of good advice to take away from the experience."
We would like to thank Holly for visiting us and delivering such an enjoyable talk on day four of Book Week 2020.
We would like to thank the Old Redingensians Association again for their generosity in funding these talks.
Interested in sponsoring Book Week 2021? Please contact Jas Chhokar or Piatrice Hutchinson in the Society Office at development@reading-school.co.uk
#ReadingSchoolFamily #ViaRedingensis #BuildingGoodMen #BookWeek2020 #WorldBookDay #RSEnrichment @HollyKateWebb