Alumni News: OR's triumph in Varsity Chess & Bridge Matches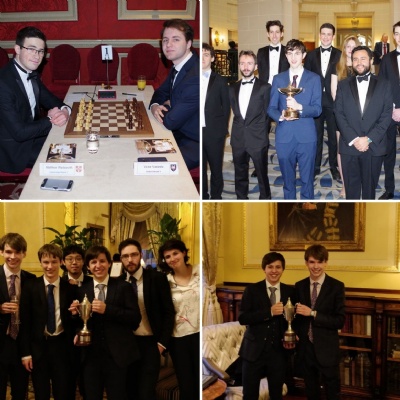 Chess success for Cambridge student Matthew Wadsworth (OR 2011-2018) in annual chess match
On Saturday 7th March, the Economics student took part in the 138th Varsity chess match (Oxford vs Cambridge), leading his team to a worthy win with a score of 5.5 to Cambridge University: 2.5 to Oxford University. The match took place in the Royal Automobile Club and has been played annually since 1873.
Cambridge students Jack Lawrence, Nathan Galpin, Will Clennell and Dominic Cooke (OR 2011-2018) defeat Oxford opponents in Varsity Bridge match
On Sunday 8th March, Jack, Nathan, Will, and Dominic played alongside 4 other enthusiastic undergraduates at the Cambridge vs Oxford Varsity bridge match held at the Oxford and Cambridge Club, London. Congratulations to Jack, Nathan, Will and Dominic who won by 36.25 IMPs.
We are always delighted to hear from Reading School alumni especially when Old Redingensians continue to prosper in the co-curricular activities they pursued at Reading School. By sharing your story, you can enhance the aspirations of students who wish to follow your professional path, inspiring them to succeed.
If you would like to share your story, please contact Jas or Piatrice in the Society Office at alumni@reading-school.co.uk. Particular interest is in medicine, scientific research, finance industries, computer science, engineering, languages, and the creative arts.
#ReadingSchoolFamily #ViaRedingensis #BuildingGoodMen #RSKeepInTouch #OldRedingensians #ReadingSchoolAlumni #UniversityofOxford #UniversityofCambridge