Better Together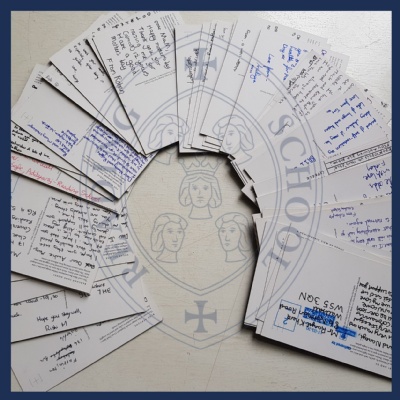 On Tuesday 17th March, with support from Assistant Headteacher Mr McGall and Captain of School, Hugo Rompani, a Year 9 PSHE class distributed over 1000 postcards to the entire Reading School student body as part of our 'Words for Wellbeing' initiative.
Having discussed the need for solidarity and communication in a period of isolation and anxiety, they invited all students to write and send postcards to the oldest members of their family, or vulnerable neighbours of the wider community. Many chose to write to the local care homes that they or their peers ordinarily visit as part of the school's inter-generational project, while others took the postcard home to post through a neighbour's door. The cost of postage is being covered by the generous support of the Reading Foundation.
Furthermore, yesterday Reading School distributed food donated by students and staff to ReadiFood, an independent Food Bank providing food parcels to those in severe need in the greater Reading area.
We ask again that all members of the Reading School community do their best to look after themselves, their families and those who are most vulnerable.
#ReadingSchoolFamily #ViaRedingensis #BuildingGoodMen #Community