Reading School Exclusive: Interview with BBC's Adam Mountford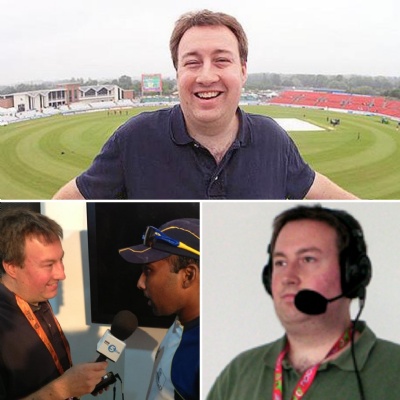 Students, parents and alumni are invited to listen to a special 30-minute interview with the BBC's Cricket producer Adam Mountford.
Adam Mountford has been the mastermind behind Test Match Special since 2007. During his audio talk, Adam answers questions posed by the Sports Journalism Club members and discusses how he landed his dream job, what the typical day-in-the-life of a sports journalist is like and reveals the secrets behind one of the world's most popular sports radio programmes.
Robert Baldock (Head of English) commented on his interview with Adam:
"Adam is an excellent example to Reading School students of how to go about securing the job you have always dreamed of: as he talks about in the interview, he grew up listening to TMS, so to end up being the person in charge of this sporting institution is such a thrill and a validation of his amazing professionalism.

I have known Adam since we were both teenagers, and we started our careers in university radio and then at the BBC together, so I'm lucky to have watched him achieve it all through hard work, dedication and focus.

I know that he has so many tales to tell and so much good advice to share, so I thought this would be a perfect opportunity to pick his brains on behalf of the Reading School community. He never fails to be a really interesting and engaging story teller."
You can listen to Adam's interview whenever you want; please click the audio guide to stream his pre-recorded talk: Adam Mountford Interview
You can also join Mr Lloyd's Sports Journalism Daily Challenge Club at the Creative Collective Team by using the code 8zh7pm4 on Thursday 4th June at 1315.
A special thank you to Reading School's Sports Journalism Club (available via the Creative Collective Team's Daily Challenge Channel) and the English Department for arranging this audio talk.
If you would like to share your professional expertise, academic specialism or research background with our students through a short talk, master class, tutorial or inspire lecture, please complete the form here: Remote Inspire Lectures
Please bear with us as we work through our list and make contact with you to arrange dates and times for future talks.
If you have any further queries please contact Piatrice or Jas at events@reading-school.co.uk
#InspireLecture #ViaRedingensis #BuildingGoodMen #ReadingSchoolFamily #VirtualLectures @bbctms @tmsproducer