Fusion: The Ultimate Energy Source: Remote Inspire Lecture with James Roberts (OR 2008-2015) & Nikolaus Muldal ​​​​​​​​​​​​​​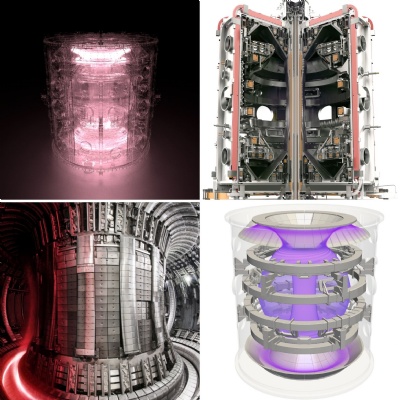 James Roberts left Reading School in 2015 to pursue a degree in Engineering at the University of Cambridge. Whilst at university, he undertook internships in Aerospace before doing a 2-year graduate scheme at the UK Atomic Energy Authority (UKAEA). UKAEA hosts the JET fusion experiment and is a member of the EUROfusion consortium. Nikolaus Mudhal is the communications officer at UKAEA. He graduated from the University of Sheffield with a degree in biochemistry and microbiology.
During this talk, James explains why we need fusion and the fundamentals of fusion energy, a reaction that powers the sun. He outlines the advantages of harnessing a source of safe, non-carbon emitting and limitless energy. With the help of Nikolaus, James presents a wide range of disciplines including core plasma physics, remote engineering, the development of new materials and high-power computer modelling as he addresses the challenges with making fusion energy work as a sustainable nuclear energy source and its ability to meet the predicted increases in energy demands.
Mr A M Robson, (Headmaster) said:
"Our Remote Inspire Lecture programme has gone from strength to strength during the Coronavirus pandemic and we are grateful to all the parents and Old Redingensians who are devoting time to inspiring the next generation.

James always participated in House events, House Eisteddfod, Senior Maths Challenge and was House Prefect. He continually applied himself diligently throughout his studies at Reading School and was always reliable and engaged. I am delighted that James was able to return to share his experiences in Aerospace and at the UK Atomic Energy Authority with our current pupils, as an exceptional role model.

Also, a huge thank you to Nikolaus Mudhal (Communications Officer at UKAEA) for sharing this platform to help inspire our students."
A special thank you to Mr I Sharma (Teacher of Physics) for arranging this lecture and to the Society Office for coordinating all online inspire lectures.
If you would like to share your professional expertise, academic specialism or research background with our students through a short talk, master class, tutorial or inspire lecture, please complete the form here: Remote Inspire Lectures
Please bear with us as we work through our list and contact you to arrange dates and times for future talks.
If you have any further queries please contact Piatrice or Jas at events@reading-school.co.uk
#OldRedingensians #ViaRedingensis #BuildingGoodMen #ReadingSchoolFamily #RSKeepInTouch #RSInspireLecture @UKAEAofficial @FusionInCloseUp #fusionenergy #nuclearenergy #engineering