Undergraduate Chemistry Unwrapped- Remote Inspire Lecture with Will McMahon (OR 2017-2019)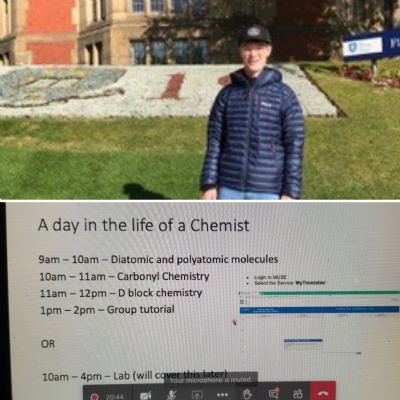 From lecture-filled weeks to long days in the lab, Old Redingensian Will McMahon (2017-2019), describes the average day in the life of an undergraduate chemistry student.
Will joined Reading School in Year 12 and earned A Levels in Maths, Physics and Chemistry. He is currently in his first year at the University of Sheffield studying Chemistry. During his talk, he runs through his timetable, highlighting the differences between his lectures and tutorials before delving into some 1st year chemistry topics (i.e. touching on kinetics, carbonyls and D- block chemistry).
Will also discusses life at university outside of study; including the clubs and social activities that he enjoys which he believes plays a big part of the overall experience. He emphasises the importance of researching what the surrounding area has to offer as well as continuing to take part in extracurricular activities and interests. Outside of his studies, Will is a keen climber; enjoys visiting the Peak District and is a part of the mountaineering society.
Finally, Will rounded off the talk with a Q&A session where students could speak with him one-to-one.
Joel B (13FEH) said:
"Will's talk was a brilliant insight into the life of a chemistry student, giving invaluable advice on how to manage your workload whilst enjoying other aspects of university life. I particularly appreciated his introduction of topics like molecular orbital theory and crystal field theory, which lead on fantastically from the A Level Chemistry content. He also suggested interesting areas to read during lockdown.

Overall, the talk was great as he kindly answered many questions about university life and allowed keen chemists to expand their interests beyond GCSE and A Level content, and have a sneak peak into topics that could be faced in the future."
Mr AM Robson commented:
"It is vitally important that our students have an up-to-date knowledge and understanding of life as an undergraduate. Thank you to Will for his depiction of life as a Chemist in South Yorkshire."
A special thank you to Mr D Wheal (Head of Chemistry) and the Society Office for arranging this lecture.
If you would like to share your professional expertise, academic specialism or research background with our students through a short talk, master class, tutorial or inspire lecture, please complete the form here: Remote Inspire Lectures
Please bear with us as we work through our list and contact you to arrange dates and times for future talks.
If you have any further queries please contact Piatrice or Jas at events@reading-school.co.uk
#ViaRedingensis #BuildingGoodMen #ReadingSchoolFamily #OldRedingensians #RSKeepInTouch #VirtualLectures #Chemistry #UniversityofSheffield