Make Someone Happy with a Great Read for World Mental Health Day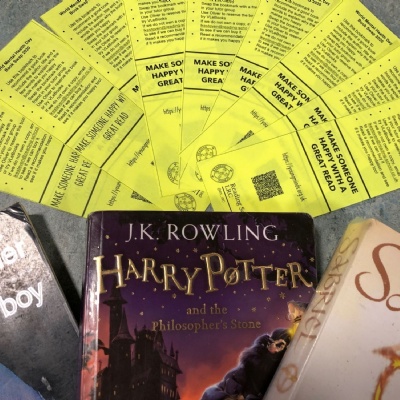 It is World Mental Health Day on the 10th of October. Reading is an excellent way to help manage your health and wellbeing.
There is evidence that reading novels and poetry can reduce stress and boost your mood. Next week, pupils in year 7 and year 8 are invited to "Make Someone Happy with A Good Read". During tutor time next week, pupils can recommend a good book to a friend in their tutor groups which can then be reserved via Oliver and use the 'click and collect' process.
A special World Mental Health Day bookmark has been created to help the book recommendation process and includes useful links to YoungMinds and to our Wellbeing book lists.
World Mental Health Day
Book Swap 2020
Use this bookmark to recommend a good book: Book Swap Bookmark
Include the author, title and a few words to explain why the book makes you happy
Swap the bookmark with a friend in your tutor group
Use Oliver to reserve the book or try VLeBooks
If we do not own a copy, email lkesteven@reading-school.co.uk to see if we can buy it
Read a recommendation and see if it makes you happy too!
Thank you to Mrs Kesteven for continuing to find ways to ensure students have access to the Learning Resource Centre and books.
@RS_LRC #ViaRedingensis #ReadingSchoolFamily #BuildingGoodMen #mentalhealthawareness #WorldMentalHealthDay2020