Holocaust Memorial Day- 27th January 2021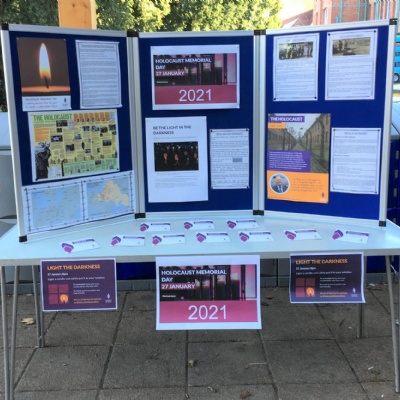 The Holocaust Memorial Day takes place on 27th January to remember the millions of people murdered during the Holocaust, under Nazi Persecution, and the subsequent genocides in Cambodia, Rwanda, Bosnia, and Darfur.
This year's theme was "Be the light in the darkness". It encourages everyone to reflect on the depth's humanity can sink to, but also the ways individuals and communities resisted that darkness to 'be the light' before, during and after genocide.
Reading can be a powerful tool to help us reflect and this year we have added the following eBooks to our VLeBooks platform.
Please see some useful LRC E-resources for Holocaust Research: LRC E-resources for Holocaust
Britannica (All ages)
Gale World History in Context (All ages) Complete Issues (All ages)
The Day (All ages)
JSTOR (KS4+)
Modern History Review Magazine accessed via the Hodder Magazine Archive (Aimed at A-level Students)
Students who are onsite were given the opportunity to view the display and ask questions as well as take away a booklet published by the Holocaust Memorial Day Trust.
Some resources from the National Literacy Trust in partnership with award-winning author Tom palmer and funded by the Marks Family Charitable Trust, can be found here:
Holocaust Memorial Day 2021- National Literacy Trust
Click here to view the Holocaust Memorial Day Brochure 2021
In these challenging times, it is important we remember the significance of the Holocaust Memorial Day. Wherever the pupils are studying, we can collectively keep the memories alive of those who have been persecuted and strive to build a better future for all.
#ReadingSchoolFamily #ViaRedingensis #holocaust #memorial #WW2 #RSEnrichment #ReadingWay