Celebrating Book Week 2021 with the amazing Chris Bradford!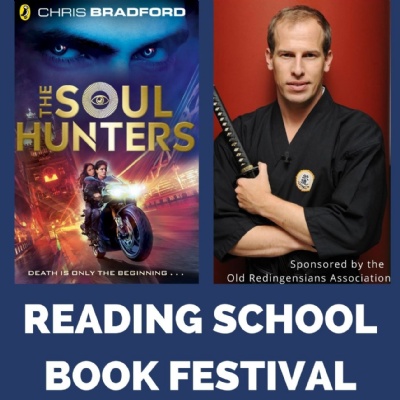 We are delighted to confirm Author Chris Bradford is giving a virtual author talk exclusively to Reading School on Friday 26th of February at 2.30pm via Zoom.
Chris Bradford's best-selling books are published in over 20 languages and have received more than 30 children's book award nominations, winning among others the Northern Ireland Book Award 2011, Hampshire Book Award 2014, the Brilliant Book Award 2014 and the Quick Read 2017. Young Samurai: The Way of the Warrior was deemed one of Puffin's 70 Best Ever Books, alongside Treasure Island and Robin Hood.
The LRC Book Club interviewed Chris last year in connection with The Return of the Warrior which was nominated and shortlisted for the Reading School Book Award 2020. You can watch our interview here: Interview with Chris Bradford- The Return of the Warrior- 2020
Places are limited so booking is essential. To book your space, please click here: Register for Chris Bradford Virtual Talk 2021
Book Festival Writing Competition
Write a short story of no more than 500 words based on this story starter by Chris Bradford, titled, The Climb:
Jason could feel his fingertips slipping off the slick rock. Every muscle tense in his arms, he desperately tried to pull himself up. But he had no strength left after the two-hour climb. 'Hold on! I'm coming!' cried Layla, scrambling across the cliff face. Jason saw the panic in her eyes. They both knew she was never going to reach him in time. His left hand lost its purchase on the rock and he dangled like a leaf in the wind. Glancing down at blackness beneath him, Jason wondered if all the sacrifice had been worth it. Henry dead. Jayde missing. Arthur killed. And now it was his turn...
Email entries to Mrs Kesteven at lkesteven@reading-school.co.uk
Deadline for entries is Sunday 21st February 2021
Chris Bradford will announce the winner live during his virtual author talk on 26th of February!
Other events for Book Week 2021
Other events include a Readathon, quizzes, a photo competition and a virtual celebration of World Book Day on Thursday 4th of March. We hope to include other author events later in the year when it is possible to host the authors on site.
We would like to thank Mrs Kesteven and Mrs Jackson from the LRC for arranging all the author talks and the Old Redingensians Association for generously funding this talk and enabling us to provide such a fantastic opportunity for the boys.
Interested in sponsoring Book Week 2022? Would you like to promote your book through Reading School's avid readers during Book Week? Are you an OR who has written a book and would like to launch this through Reading School? Please contact the Society Office at events@reading-school.co.uk.
#ReadingSchoolFamily #ViaRedingensis #readingway #BookWeek2021 #ReadingSchoolBookFair #RSEnrichment #OldRedingensiansAssocation