Inter-School Debate with Queen Anne's School, Caversham- Is the UK systemically racist?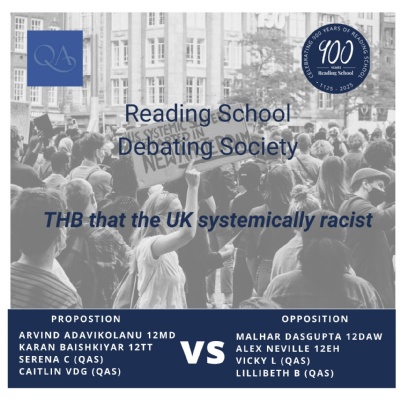 Students and staff from both schools tuned into the live debate on Teams as the two sides debated whether the UK is systemically racist. Systemic racism, also known as institutional racism, is a form of racism that is embedded as normal practice within society or an organization.
Malhar D (12DAW) and Alex N (12EH) and Queen Anne's students, Vicky L and Lillibeth put forward a strong case opposing the motion of systemic racism in UK society. However, it was Debating Society President, Arvind A (12MD) and Karan B (12TT) as well as Queen Anne's students, Serena C and Caitlin VDW on the proposition, who brought to light issues of discrimination in criminal justice, employment, housing and swayed the audience to vote in their favour.
Vicky L from Queen Anne's School, who disagreed with the motion, commented:
"I obtained a lot of knowledge about how the UK system is functioning, more than I ever would if I was not doing the debate."
Lilibeth B also said:
"It was a great experience to work collaboratively with Reading School in a lively and intellectual debate."
Caitlin VDW commented:
"Although the debate would normally take place in person it still remained an enjoyable experience over Teams as many more people were able to join it.

All in all, the debate was very successful despite the circumstances. All participants spoke passionately and strongly on their points and it even led to the debate still going on after the debate had finished! Hopefully, we will see more debates, such as these, in the future."
Debating Society President, Arvind A (12MD) added:
"On behalf of the Debating Society at Reading School, we would like to thank the Queen Anne's students for taking the time to prepare and produce what was an extremely interesting and heated debate.

It is vital that topics such as Racism are discussed through structured and informative debate as to highlight the most infectious problems with the society today.

Each speaker in this debate brought a valuable insight into how deeply rooted the racist agendas of institutions and the government are in the UK.

We thank everyone for the amazing turnout for this debate (almost 100 people!) and we look forward to the next event with Queen Anne's in March."
Thank you to Miss P Hutchinson (Society Assistant) for leading and coordinating this debate with Dr J Beale (Head of Public Speaking at QA) and Mr B Stephenson (Director of Sixth Form at QA).
As the inter-school debate was so successful, we have scheduled for a comeback, by popular demand, on Wednesday 3rd March 2021 at 2:30pm.
Were you an avid debater during your time at Reading School? Would you like to be a special guest in one of our weekly debates?
Any OR's at University who would consider an inter- debate or helping with training our keen younger debaters please do get in touch. We welcome the support to grow more avid debaters.
If you are interested, please contact Piatrice or Jas at alumni@reading-school.co.uk.
To keep up with the Debating Society, follow them on Instagram: RS Debating Society
#ReadingSchoolFamily #ReadingWay #ViaRedingensis #RSEnrichment #RSDebating