Book Week 2021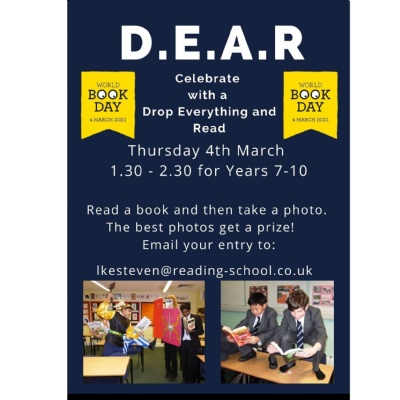 Our annual School Book Week aims to inspire enjoyment of books and reading throughout the whole school. It supports the school core values of Excellence, Integrity, Community and Leadership by engaging pupils' intellectual curiosity and enabling opportunities for pupils to work together for the benefit of the whole school.
Book Week began this week with a short story competition and a virtual talk with author Chris Bradford on Friday 26th of February.
Activities next week include:
Read for Good Readathon (15th February to 15th of March)
Book Club author talk with Holly Webb (Tuesday 2nd of March, 2.30pm)
Drop Everything and Read (Thursday 4th of March, 1.30pm to 2.30pm)
D.E.A.R. Photo Competition (Thursday 4th of March, deadline Friday 5th of March)
World Book Day Book Quiz (Thursday 4th of March, 2.30pm)
To keep up-to-date with all the activities, pupils can join a special Book Week 2021 Team, using the join code: 9eedglm
There are lots of activities and book recommendations available from the World Book Day website.
The £1 World Book Day vouchers will be distributed when pupils return to school. The expiration date has been extended to give pupils more opportunity to use them in their local bookshops. For more information about the vouchers, please see the World Book Day website.
#ViaRedingensis #ReadingSchoolFamily#RSEnrichment #BookWeek2021 #Reading #DropEverything&Read