Second Interschool Debate with Queen Anne's School- March 2021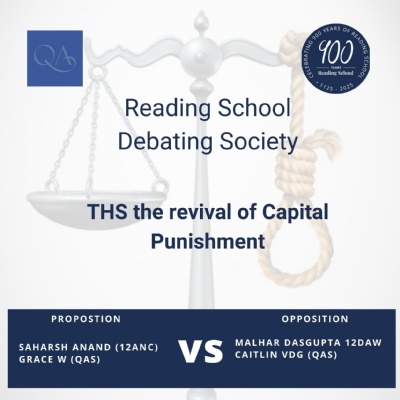 The second inter-school debate of the year was held live via Teams on Wednesday 3rd March 2021.
Saharsh A (12ANC) and Grace W (QA) held the proposition and Malhar D (12DAW) and Caitlin VDW (QA) held the opposition in the debate over a motion that supported the revival of capital punishment. The proposition put forward arguments centring around the justifications of fairness, retribution, deterrence, economy, and popularity. On the other hand, the opposition raised important questions on the flaws within the justice system, inhumane realities of death penalty methods and the psychological experience of security officers who work with executions.
Malhar D (12DAW) commented:
"It was nice to do another debate with Queen Anne's School again this time on what is a classic motion. Arguments put forward by both sides were strong, and lots of moral and ethical questions were brought up and debated what was a very intense debate. In the end, Caitlin and I prevailed on the opposition based on our arguments regarding the need for constitutional limitations of the power of the state to execute its citizens and also the risk of irreversible miscarriages of justice".
Alex N (12FEH) said:
"It was great to see around 100 people attending the debate and especially those attending from Queen Anne's School. While debating online is a departure from what we are used to, it has allowed us to have these inter-school debates on a more regular basis and it has proved very interesting. During this debate, audience participation was very successful and we heard questions from students in all years. The speakers on either side of the house brought some excellent points to the debate, making it a good discussion about a fundamental piece of our justice system. After a lengthy and interesting debate, the opposition earnt the swing and the motion was not carried, although everyone learnt lots from every speaker, on either side of the house."
Queen Anne's student Caitlin VDW added:
"I believe the debate went well as everyone who viewed it was very attentive, asking lots of questions which we could debate further on. I also found the motion very engaging as it is something often discussed, and when involved in a formal debate it allows you to explore both posts of view and personally, I found it helped me determine my views on the matter. By taking part in the debate, I was able to develop my public speaking skills and communication skills with those involved. I decided to participate as I find debates a very exciting experience as although you prepare your points beforehand you cannot determine what questions you will be asked or what points the other side puts forward, so it creates an interesting dynamic as you must think on the spot. I found it quite like debating with my peers, although it being a formal debate it allowed me to find evidence for the points I put forward and allowed me to present these points in a much more confident manner as I was of course able to prepare."
Thank you, Miss P Hutchinson, (Society Assistant) for leading and coordinating this debate with Dr J Beale (Head of Public Speaking at QA) and Mr B Stephenson (Director of Sixth Form at QA).
Were you an avid debater during your time at Reading School? Would you like to be a special guest in one of our weekly debates?
Any OR's at University who would consider an inter- debate or help with training our keen younger debaters, please do get in touch. We welcome the support to grow more avid debaters.
If you are interested, please contact Piatrice or Jas at alumni@reading-school.co.uk.
To keep up with the Debating Society, follow them on Instagram: RS Debating Society
#WeAreRedingensians #ReadingSchoolFamily #ReadingWay #ViaRedingensis #RSEnrichment #RSDebating