Reading School provides back drop for OR James Alex Harding's debut novel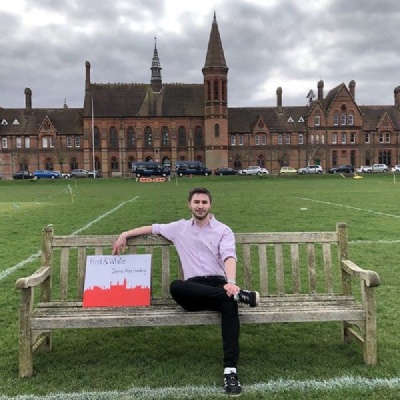 Old Redingensian James Alex Harding (OR 2009-2016) has released his debut novel, Red & White, set in the shadows of Reading School.
James attended Reading School before studying Law in 2017 at the University of Bristol.
In his debut novel, he provides a fresh take on the Young Adult genre, drawing inspiration from Lord of the Flies and crafting a compelling narrative that portrays teenagers and conflict in a realistic manner.
James commented:
"I first came up with the idea for 'Red & White' whilst sat at the back of a GCSE English class. We were studying 'Lord of the Flies' at the time and, although I enjoyed the general premise and themes, I found the text itself quite dry. I therefore wanted to modernise the setting and characters, showing how twenty-first century teenagers might behave in a world without adults. Considering I knew Reading School, its pupils and our unique manner so well, I couldn't imagine ever setting the novel anywhere else."
During his recent visit to the School since leaving 2016, James said:
"Coming back to school was an incredibly rewarding and nostalgic experience, as I haven't set foot on the grounds in half a decade. It was also quite eerie as my novel's premise is initiated by a global pandemic, so it was strange to be on the grounds during exactly such an event."
Red & White is available for £5 on the Kindle Store and on mobile devices using the following steps: How to by kindle books. James suggests the recommended reading age to be sixteen and above.
To purchase a copy, please click here: Red & White by James Harding
We are always delighted to hear from Reading School alumni. By sharing your story, you enhance the aspirations of current students inspiring them to succeed.
If you would like to share your story, please contact Jas or Piatrice in the Society Office at alumni@reading-school.co.uk. Particular interest is in medicine, scientific research, finance industries, computer science, engineering, languages, and the creative arts.
​​​​​​#WeAreRedingensians #ReadingSchoolFamily #ViaRedingensis #RSKeepInTouch #novel #writing #OldRedingensians