Stunning mural unveiled at Reading School in tribute to Future Stories Ambassador Wycombe Wanderers, Footballer Adebayo Akinfenwa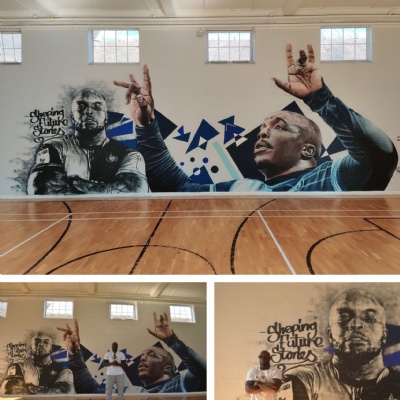 The giant wall painting, displayed in the gym and created by street artists MurWalls, was revealed last Monday as the footballer becomes the latest Future Stories Ambassador for Reading School. It symbolises our commitment to maximising opportunity, breaking down barriers, character development and inspiring others to shape a positive narrative for the future.
The mural is part of the Future Stories Programme, a social mobility project working in partnership with local primary schools. The Future Stories programme, supported by the Reading Foundation, aims to ensure that Reading School supports high-ability students from a full range of social and economic backgrounds, who are eager to reach their future story goals.
Akinfenwa aka "The Beast" is an English footballer and currently plays for the Wycombe Wanderers. He holds the record as their top goal scorer and was the strongest player in FIFA between 2010 and 2020. He has also played for the likes of the Doncaster Rovers, Swansea City & AFC Wimbledon, to name a few. Throughout his career, he has worked tirelessly to prove his critics wrong and has displayed character and fortitude to complement his talent.
During his visit, students and staff were captivated by his down-to-earth nature and witty charm. They had the fantastic opportunity to speak to the role model in a Q&A session. Akinfenwa discussed stories from his footballing career as students were keen to find out about his training sessions, his all-time favourite goal and head-to-heads on the pitch. They even made sure to get his opinion on the latest European Super League controversy. As the session moved on, Akinfenwa discussed the importance of hard work and dedication in all aspects of life as well as his perspective on the significance of mentoring and character.
Mr A.M Robson commented:
"Mr Akinfenwa emphasised the importance of character and resilience. In addition, he noted that talent can get you as far as the dressing room, but attitude determines how long you remain there. Adebayo gave clear examples of the need to be a team player and mentor others. His positive 'Beast Mode' philosophy makes him a suitable Ambassador for our flagship Future Stories programme."

We are proud to work in partnership with MurWalls Ltd, Marc Silver and his team of talented street artists and look forward to future collaborations. We welcome suggestions for artistic representations of other inspirational figures that will inspire the Reading School community."
Please click the link to see Akinfenwa's visit to the School: Adebayo Akinfenwa visits Reading School Video
A huge thank you to Adebayo Akinfenwa for taking time out of his very busy schedule to visit us.
Thank you MurWalls and PrimeMediaUK for the impressive artwork and Dal Singh at Recapture Video for capturing the moment on film.
We are keen to address social mobility. We want our school to represent the full diversity of backgrounds that children come from. We believe that there are able, clever children in our designated areas who do not have the same opportunity to succeed as those from more privileged backgrounds and at Reading School we want to attempt to do something about that.
If you or your organisation want to help Reading School and the development of our Future Stories programme to enable us to impact future stories of all children, whatever their background, then please contact Tom Evans, Assistant Headteacher at development@reading-school.co.uk. We need your support to continue to make a difference.
To learn more about the programme or further details please click here Future Stories at Reading School or contact fstories@reading-school.co.uk.
#WeAreRedingensians #ReadingSchoolFamily #ReadingWay #RSFutureStories #BuildingGoodMen #education #socialmobility