Reading schools' talented cricketers are selected at trials by the MCC Foundation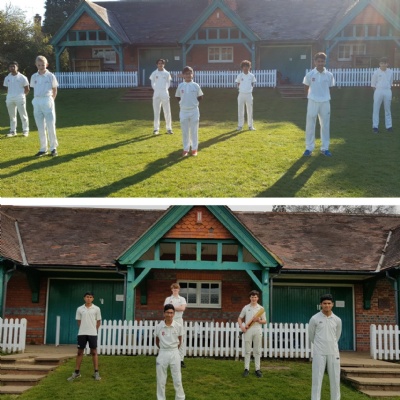 A fantastic way to begin our Summer Term 2021. Congratulations to Milan G, Aadith C, Rohan R, Rohan G, Kanishk K, Ishaan K and Soham A (Year 9) and Joss HB, Uday G, Adityaraj S, Stephen P and Ed MG (Year 10), all of whom were selected at trials by the MCC Foundation.
Founded in 1993, the MCC Foundation is the charitable arm of Marylebone Cricket Club and aims to transform lives through Cricket. The flagship programme is a network of 55 cricket hubs around the UK that provide free-to-access coaching and match-play to over 2400 participants state-educated young cricketers aged 11 -15 and enable those players with the talent to reach district and county youth age group standards regardless of race, gender or economic circumstance. This includes 10 weeks of intense cricket training delivered using their coaches and facilities free of charge.
Participants have said:
46% said they had little to no opportunity to play cricket at their school
95% said the hub training has made them a better cricketer
81% of parents said attending the hub has improved their child's confidence.
97% said the hub has increased their desire to keep playing cricket
We are delighted to share that out of about 35 children, 10 were Reading School students, which is just phenomenal and shows the level of cricket at our School.
Some testimonials from the students picked for the MCC hub:
Soham A (Year 9) said:
"I feel honoured to have been picked for MCC to enable me to learn and develop new skills from the very best coaches."
Kanishk K (Year 9) said:
"I feel inspired by the opportunity and I'm humbled to be trained by coaches of such a high calibre."
Adityaraj S (Year 10) also commented:
"Being part of MCC's Cricket Hub allows me to compete and train with other skilled players. In addition, to the technical advice from the coaches, this has helped me improve various aspects of my game that I haven't thought of before."
Stephen P (Year 10) commented:
"I am very proud and excited to have achieved it, and I am looking forward to future sessions."
Rohan R (Year 9) said:
"This was a brilliant opportunity to improve my cricket skills and I am delighted to have had this experience."
Mr A M Robson (Headmaster) said:
"Reading School is proud to be one of a few state schools that can provide its students with the opportunity to play cricket with excellent PE staff. I am delighted that our students can benefit from fully-funded coaching from talented professionals at MCC Foundation, which will enhance their abilities in Cricket.

Reading School continues to honour the Reading School's cricketing tradition. I am delighted that the Reading Foundation has provisionally agreed to partly fund the refurbishment of the Pavilion to improve our facilities for the boys. This is due to commence in August.

We welcome any additional contributions or matched funding from avid supporters of Cricket or organisations which could include naming rights depending on the size of the donation, with gifts ranging from a place on the wall of pledgers to sponsorship.

Last week saw the return of after-school Cricket coaching through our co-curricular activities programme. We are fortunate to be able to put on these additional activities through the generous support to the 'Building for the Future'. Thank you."
If you are interested in donating to Building for the Future, which provides additional funding for co-curricular activities for current students or sponsoring Reading School Cricket or other sporting activities, please contact Jas Chhokar, Society Manager at development@reading-school.co.uk.
#WeAreRedingensians #ReadingSchoolFamily #Sport #SchoolSports #ReadingWay #Cricket